I Color Diamonds: Are They Worth Buying?
Amidst the chaos of buying the very expensive color diamonds, color I diamonds seem to be a peaceful corner. There is nothing special except for the trend that instigated the interest of people towards this diamond color.
We all know that diamonds look good only if they are utterly transparent. But, the I color diamond has a mysterious appearance.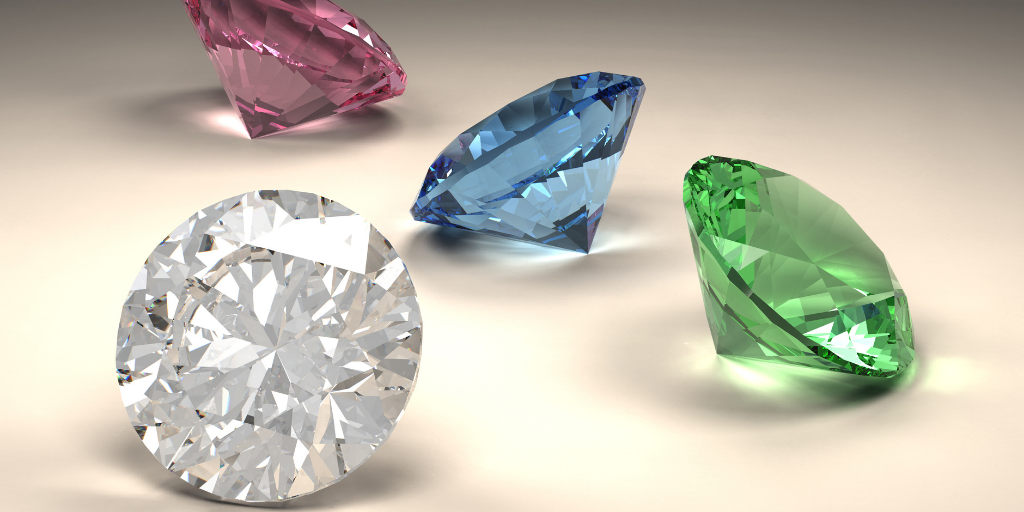 As a diamond jewelry buyer, one always thinks of having a variety. And, I color diamonds could become a good way to welcome a new member to your jewelry box.
In the following guide, we are going to clear all your doubts related to I color diamonds. After reading it, you will get clarity on whether color diamonds are a good fit for you or not.
What is an I color diamond?
Before going any further, let us first understand the essence of this diamond I color.
Many years ago, a genius member of the Gemological Institute of America(GIA) framed the 4C characteristics. These 4C characteristics were developed to rate the overall quality of a diamond. Out of those 4Cs, one C stands for color. To rate the color of diamonds, GIA has designated a proper D-Z color scale.
A D-grade color diamond has a white color and thus looks transparent. Whereas Z-grade diamonds are yellowish-brown in color. And, the I color diamonds are one such class of diamonds that falls somewhere in the middle.
The location of the I color diamond scale allows it to possess multiple characteristics. An I color diamond has the white clearance of D-grade diamonds with a slight yellow pinch of Z-grade diamonds. Usually, top-grade diamonds are highly expensive. But, an I color diamond provides some relief due to its affordable price and poise shine.
Do I color diamond jewelry look good?
People who come to know about I color diamonds for the first time doubt their quality. It is because of the extreme range of diamonds they have come across. The over-fancy diamond ads or bulletins have given rise to a notion that says only white color diamonds look good.
Whereas, people who are even aware of the color range of diamonds think of i-color diamonds as less attractive. But, the reality is far different from this notion. Because these diamonds look fairly transparent from various angles. One will be able to realize the color of the diamond only if noticed properly from a certain angle. Otherwise, i-color diamonds look as beautiful as other top grades diamonds.
You just need to select the right setting, cut, and carat count to make an i-color diamond shine beautifully.
I Color Diamonds Vs Other Color Diamonds
To take the analysis deeper, we must understand the differences between i-color diamonds and other diamonds. In the following list, the features of I color diamonds are compared with other color grade diamonds:-
 H vs I color diamond
The first comparison of color diamond i is being done with its closest neighbor. As evident from their name itself, I and H's color grade are adjacent to each other. The difference between the colors of both the grade is almost negligible. If viewed from a normal distance like 40-50 cm, a normal person will not be able to differentiate amongst both the color grades.
D vs I color diamond
D-grade diamond being the supreme color grade feels like a huge mountain in front of the I color diamond scale. If you compare d-grade and I-grade diamonds with the same clarity and carat weight, then the difference is fairly noticeable. After a certain magnification, the yellow tincture present on the diamond I facets is clearly visible.
F vs I color diamond
The F-grade diamond comes in the initial bright color grades. If you place a color I diamond beside it, then predicting the grade of both diamonds will not be a difficult task. Due to the transparency of the F color grade, the color of the diamond looks a little faded. Hence, the appearance of the I color diamond perceives an underrated glare in front of F-grade.
K vs I color diamond
Though the k-grade comes after the color I, let us compare them together to get a bigger picture. Under a bright light, if you put both K and I grade diamonds together. Then, the difference in the glare of both the diamonds is notable. Because in the case of color diamond I, the internal structure is more brightly visible than a K-grade diamond.
What setting is best for I color diamonds?
On an all, the best setting for an I color diamond is something that does not underline its flaws. And, to make this happen, the first requirement is the absence of competition.
To understand this, let's take the example of a three-stone setting. In this setting, the central I grade diamond might be overlooked if the adjacent diamonds do not compliment it. Hence, for a multi-diamond setting, one needs to ensure that the neighboring diamonds are compatible with the i-grade diamond. Thus, one should choose the same grade or a J-Z grade diamond as the neighboring diamonds.
In case you find this color grade matching tedious, then there is a better option for you i.e. solitaires.
Be it a ring or a pendant, you can always trust a solitaire for an I-grade diamond. Because this diamond setting involves only a single diamond. Hence, there is no scope of comparison or competition. This is why we call a 4-prong or 6-prong solitaire setting the best for i-color diamonds.
Also read: Major Reasons To Re-Examine Mined Diamonds
I Color Diamond Price
Price becomes the most important factor when you think of buying diamonds. The underlying characteristics of an i-color diamond make it more affordable than other white-color diamonds. Hence, you need to have an idea of the price range of these diamonds to buy the right one.
Actually, the price of every diamond is decided based on its 4C characteristics. And, the same happens with an I color diamond also. Except for the color, the cost of all the i-color diamonds is a factor of their clarity, cut, and carat count.
As an example, let us take three round cut diamonds with almost the same carat weight but different color grades. These three diamonds have color grades as- D-grade, K-grade, and I-grade. When compared to a D-grade diamond, an I-grade diamond costs about 50-55% less. On the other hand, the same color would cost 25-30% more than a K-grade diamond.
This might help you in getting an idea about the pricing of i-color grade diamonds.
What is the best cut for an I color diamond?
In this section, we will suggest some diamond cuts that proliferate the shine of an I-grade diamond.
Round Cut
The round cut is considered to be king of all the cuts. It has the most dynamic brilliance and an exquisite facet orientation. This is why it very well hides the yellowish glare of I color diamonds. On top of that, this diamond-cut looks good with every metal. So, if you want to buy a ring, then a round cut I-grade diamond will act as the cherry on the cake.
Asscher Cut
The main reason behind the popularity of the Asscher cut is its minimalist appearance. An Asscher cut might be your favorite if you like tiny diamonds. Its edges and facet orientation are such that this cut makes the diamond appear smaller than others. Hence, the Asscher cut can become a good cut for I color-grade diamonds. Because they will hide the colorful fluorescence of I diamonds due to their small appearance.
Princess-Cut
Princess cut is profoundly famous as a diamond ring cut. After round-cut, the princess cut is the most popular diamond cut. Thus, if you want to buy a ring in the budget of an I-grade diamond, then a princess-cut is the best. Its square shape curvy edges make the I color diamond appear white.
Emerald-Cut
The straight edges of the emerald cut are very proficient in ennobling the gloom of I color diamonds. Its beautiful symmetry is widely used in rings, pendants, bracelets, etc. One more advantage associated with this diamond cut is its less cost. Therefore, an I-grade diamond with an emerald cut will make the most affordable diamond jewelry.
Clarity Of I Color Diamonds
Clarity is another important characteristic out of the 4C's of diamonds. The shine and brilliance of an I color grade diamond are mostly affected by its color. But, the clarity of a diamond defines its resistance to impurities. A clarity grade of a diamond is a measure of the inclusions and blemishes present in it.
The clarity scale designed by GIA(Gemological Institute of America) contains grades such as VVS2, SI1, I1, I2, Flawless, etc. You can choose any of these clarity grades as per your budget. Because the price of a diamond increases with its clarity grade. Hence, you must choose the clarity of your I color grade diamond wisely.
Also read: Difference between Full Cut and Single Cut Diamonds – Which one to choose?
What is the best I Color Diamond Jewelry?
The glare of I color diamonds is barely affected by its yellowish tint. Hence, you can opt for any diamond jewelry made up of I color-grade diamonds. But, if asked the best, then we would prefer an I color grade diamond ring. These scintillating rings could become a great way to commemorate engagement or wedding occasions.
Things To Consider Before Buying An I Color Diamond
If you have read this article till now, then I color diamond jewelry must be on your wishlist. Thus, we recommend you consider the enlisted factors before buying any i-grade diamond jewelry:-
 Carat
Carat is a unit used to measure the weight of a diamond. The carat weight can either be expressed in whole numbers or some decimal points. And, if you are going to buy any kind of diamond jewelry, then carat is the most important factor to consider. Because carat weight affects the brilliance and glare of a diamond. This is why a high carat diamond costs more.
Cut
All the cuts that we mentioned above are the ones that look most compatible with an i-color diamond. Apart from them, you are free to choose any cut of your choice except marquise or cushion. Because these cuts amplify the yellow tint of i-color diamonds which can make your diamond look unpleasant.
Diamond setting
Every piece of jewelry has its diamond placed over it in a unique order. This unique fashion is defined by its setting. Some settings highlight the yellow-colored fume of i-color diamonds whereas others don't. Thus, you must choose a diamond setting that glorifies the appearance of an I-grade diamond.
Browse all the possible styles
No matter what kind of I color diamond jewelry is, the style options are way beyond counting. In such a situation people usually go for the trendy or the top-listed styles. But you should not do the same because this causes redundancy. As a buyer, you must look for a unique style that can make you stand different from others. And, the only key to finding unique jewelry is exploring enough options.
Certification
In the United States of America, all the esteemed diamond jewelry stores provide diamond certificates. These certificates are a way of authenticating the jewelry you buy. Usually, common people are not able to differentiate between real and fake diamonds. To make the diamond sale trustable, verified groups like GIA and AGS issue these certificates.
Hence, you should never forget to ask for the certificate diamond each time you buy diamond jewelry.
 Cost
Cost is the last but not the least important factor. Diamond jewelry can cost you a lot of stress if you do not buy it as per the budget. While browsing those bright and adorable jewelry options, you must not go with the flow. Before if you land upon any style option, make sure it does not harm your bank balance.
Also read: How to determine the value of a Black diamond?
Conclusion Thoughts
The I color grade diamonds are a bright and affordable class of diamonds. For a low budget and good brilliance, these diamonds are a good deal to buy. To help you with the shopping process, we presented all the important details related to i-color diamonds. The information and tips listed above are best to our knowledge.
We hope that this guide will help you in buying the right jewelry of your choice!