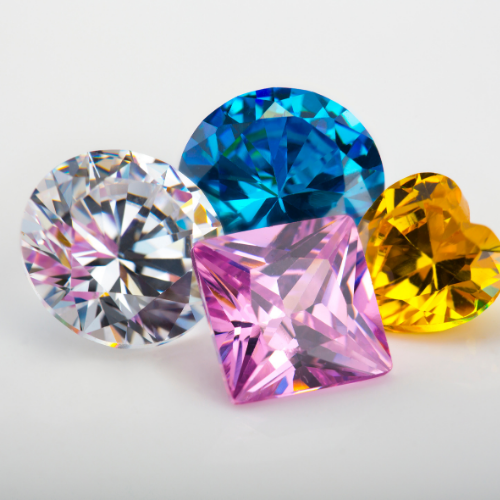 It is good to see that you are interested in the unique category of color h diamonds. Because this class of diamond has a lot to offer you. From rings to a pendant, they are used everywhere. And, this is why you need to be aware of them.
Are they worth buying? How much does an h color diamond cost? Does h-grade diamond jewelry look fine? Do not worry if you have queries like these. Because you are at the right place. Here, all the questions and doubts related to h-color diamonds are answered patiently.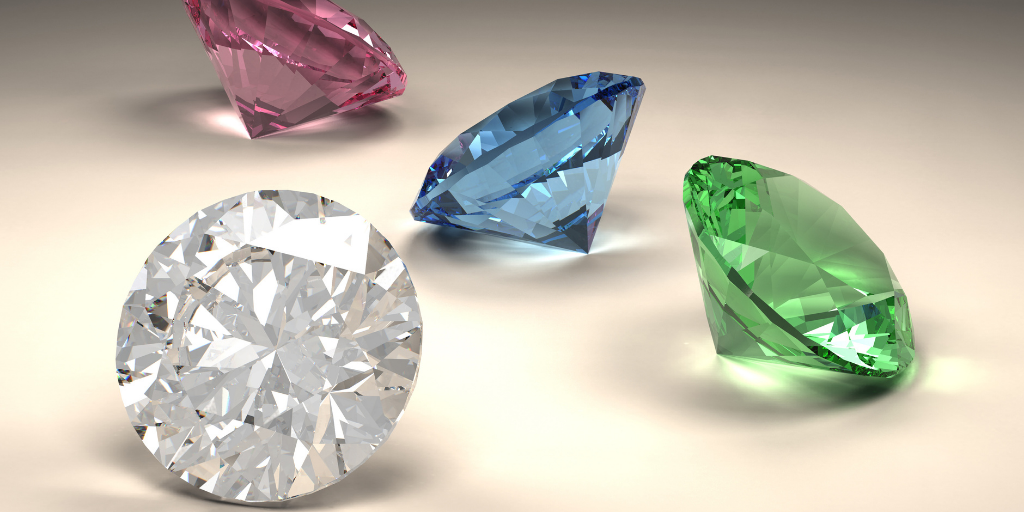 So, turn down the meter of your curiosity. Because we are going to take you on a ride of 'All about H Color Diamonds'. By the end of this page, you will have a clear picture of h color diamonds in your mind. So, get ready to dive in!
What is an H color diamond?
The color grade scale of diamonds designed by the Gemological Institute of America (GIA) has 23 grades. All these grades are roughly divided into 5 regions- colorless, nearly colorless, faint, very light, and light.
The first group comprises D to F grades. Whereas the second group consists of G to J grades. And this is the group which h color diamonds are part of.
In simple terms, they are nearly colorless diamonds and stay fairly close to the D grade. Their shine and luster are as phenomenal as a white diamond. These diamonds act as a good substitute if you are looking for the white glare of D-grade diamonds at a low price.
Do H color diamonds look yellow?
The yellow color as we know is originally perceived by Z-grade diamonds. And, as per the color grade scale, H color diamonds are quite far from this range. Also, h grade is a part of the nearly colorless group. Thus, there is not much scope of H-grade diamonds appearing to be yellow.
Nonetheless, as a non-expert, one will not be able to judge the brilliance of h color diamonds. Because under good bright light, they look completely white. Therefore, you can trust the white scintillation of h-color grade diamonds for buying some precious jewelry.
Is H color diamond jewelry worth buying?
Yes! they are worth buying because they save money. This is the only reason that people are tilted towards this color grade. The appearance of color h diamonds is almost white and it looks brighter than I color diamonds.
Diamond jewelry such as rings and pendants has small or mediums pellets attached to them. Hence, it is easy to catch attention. In such a case you would not like to use any other grade that comes after h color diamond. Because then, people might be able to notice the difference in the form of a yellow tint.
But h color diamond jewelry looks bright white under the white LED light. Some h color diamonds might show a blue color when brought under sunlight. But that is a consequence of fluorescence which is a different case.
If all these arguments sound good to you, then h color diamond jewelry is a must-have thing for your jewelry box.
Also Read: Diamond Carat: Understanding Sizing And Measurement Guide
H Color Grade Vs Other Color Grades
Since H grade color is not the only diamond available in the market. Thus, before making any decision regarding H-grade diamond color, you must do a fair comparison. Here, we have given a descriptive comparison of h color grade diamonds with other diamond shades: –
H vs D color diamond
The H-grade diamond is just 4 diamond shades behind the D-grade diamond. Hence, the difference between both of them is negligible. Especially in a bright room when viewed from the top, both of them look precisely identical. However, a small difference in glare occurs if someone views from a side angle.
When looked upon from the side, the d grade diamond appears to reflect more light than a color h diamond.
H vs I color diamond
I color diamonds are another widely used category of diamonds like h-grade. Since both the grades are like neighbors to each other on the color grade scale. The difference is very minuscule. Even after close examination, it is difficult for a normal person to differentiate between the two grades.
However, a diamond expert can identify the difference between both grades by magnified examination.
K vs H color diamond
K is a color grade that comes after and more near to Z grade than an h-color diamond. If diamond rings made of K and H-grade diamonds are placed together, then identification is easy. Because k color diamonds show a glimpse of yellow color. On the other hand, the H grade diamond color looks more blazing from both side view and top view.
Best Setting for H Color diamond Jewelry
When we say diamond setting, it means the fashion in which a diamond is arranged in a particular piece of jewelry. It is the prefix that you might hear with jewelry names. E.g. pave, solitaire, halo, etc. From rings to pendants, they are employed everywhere.
But why we are dedicating an exclusive section to it is due to the role it plays. Setting acts as the regulator of flaws and shines to some extent. Diamond experts have observed that certain settings can make the faint and very-light color grade diamonds look good.
Similarly, a diamond setting can make a diamond look shorter or larger also. As in the case of a prong setting, the 6-prong setting covers the edgy circumference of a diamond. Hence, the eyes of the viewer stay more concentrated at the edges thus making the diamond appear big.
Thus, we recommend you choose a setting that amplifies the beauty of an h-color diamond. Because selecting the right setting for your color h diamond jewelry might gather more applause. So, the setting that turns up the gloom of h color grade diamond is a solitaire.
Solitaire setting jewelry is made up of a single diamond only. And, one can pair this set with a perfect metal color to uplift the white shine of h color diamonds.
Other settings such as halo and pave can also be used. But, the problem with them is their additional set of diamonds. The central diamond in these settings is decorated with a plethora of diamonds. This can sometimes make the central h color diamond overlooked due to the extra brightness of adjacent diamonds.
Hence, for settings other than solitaire, the color of secondary diamonds should be the same or more than the H-color grade. This trick will make the central h color diamond appear more highlighted and blazing.
How much does a 1-Carat H Color Diamond cost?
We all know that the price of every item is decided by its constituents. Similarly, the price of diamond jewelry is decided by its 4C set. All the factors when taken into consideration predict the price of a diamond.
For instance, the diamond cut and clarity of diamonds are said to alter the price of diamonds drastically. While browsing for online diamond jewelry, you must have come across a clarity-grade filter. It has several grades like FL, IF, VVS1, VS1, etc. And, higher clarity grades such as FL and IF cost more than regular ones.
Thus, it is ambiguous to tell the price of a 1-carat h-color diamond without specifying its other characteristics. But, for an estimate, we can give you the idea of price in the form of a comparison.
By comparing the prices of different color grades, one can decide whether h-color diamonds fall under his/her budget or not. Therefore, let us compare a round cut h-color diamond with the most precious D-grade diamond. For the same cut, clarity, and carat, an H color diamond costs around 40% less than that of a D-grade diamond.
Hence, H-grade diamonds are a good deal to buy. Because they provide nearly the same characteristics at a very fair price.
 H Color Grade Diamond Cuts
As mentioned above, the price of h color diamond is significantly affected by its cut. Hence, you must choose the diamond cut wisely so that it both looks good and saves money. In this section, we have listed some of the best diamond cut options for an H color diamond.
Asscher Cut
The ongoing depth of the Asscher cut is popular for gathering a high amount of light. And this is what we want for our h grade diamond. An Asscher cut h color diamond ring looks very brilliant. So, if your budget is going slightly off-hand, then this is the cut you must go for.
Emerald-Cut
When a raw piece of diamond is carved into pointed edges, we get an emerald cut diamond. To your surprise, it is the cheapest diamond cut of all. By selecting the appropriate color of metal, you can easily buy affordable and gloomy diamond jewelry with this combo.
Round Cut
A round cut is the best diamond cut you can ever have for an h color diamond. It has the most beautiful facet orientation that brings out the deepest details of h-grade diamonds. However, it is the most expensive cut also. Due to its high brilliance, you can make the best use of an h grade diamond. But the pricing will become quite high.
Princess-Cut
If you find straight edges beautiful, then the princess cut is for you. It is very profoundly used in designing rings and pendants. For an h color diamond, this cut provides a concentrated structure across the circumference. This causes the white shine of the h-color diamond to increase. With the symmetrical facets of the princess cut, it becomes difficult to spot the lag in the brilliance of h diamonds.
H Color Diamonds' Clarity Grade
The clarity of a diamond has the same impact on all types of diamonds irrespective of their color. The main catch here is the budget. Flawless diamonds cost a high amount whereas Slightly Included and Included don't. Although, the clarity grade of h color diamonds goes like any other diamond ranging from FL to I3 grade.
People who have a high budget and prefer quality should go for initial clarity grades such as IF, FL, VVS, etc. These clarity grades make h color grade jewelry free from imperfections and enhance its beauty.
Also Read: The Reason Of East-West Engagement Ring Hottest Style
Which H Color Diamond Jewelry should I buy?
The gleaming behavior of h color diamonds makes it suitable for all jewelry items. Be it a small ring or a diamond earring stud, these diamonds rock every show.
Since you have many options to choose from, then a diamond pendant or a choker would be great h-grade diamond jewelry. Because this combination will yield a powerful bright pendant necklace at an affordable price.
Tips For Buying The Best H Color Diamond Jewelry
You may or may not be a newbie to the market of diamonds. But the following tips listed here will surely help you in a good purchase of color h diamond jewelry: –
Count the Carats Carefully
In the above text, we discussed all the 4Cs except carats. Carats are an essential part of diamond jewelry shopping. Because it is a unit used to define the weight of a diamond. When converted to a normal metric system, one carat equals 200 milligrams.
The cut is Quite Important
As explained earlier, you need to decide the diamond cut smartly as per the need of your jewelry. Because the right cut will make the h grade diamond appear more transparent.
Budget Bar
Set a fair price bar and try to stick with it till last. This is the only magic spell used to buy affordable diamond jewelry.
Certificate is Compulsory
Do not forget to take the diamond certificate issued by GIA(Gemological Institute of America) and AGS(American Gem Society) while purchasing diamond jewelry.
Also Read: Yellow Color: An Immense Color Diamond Guide 
Conclusion Thoughts
The various color-grade diamonds are extracted from nature only. And, if we are getting this diversity naturally, then why not make use of it. The h color diamond jewelry range is one such miracle of nature. You can buy excellent h-color diamond jewelry by establishing a fair trade-off between budget and the remaining 4Cs.