Let's dive into the captivating realm of cuban link chains, where size matters. From dainty and delicate to bold and statement-making, Mens cuban link chains offer a range of sizes to suit every individual's unique style.
Dwayne "The Rock" Johnson the popular actor and former professional wrestler has a strong affinity for cuban link chains. Jay-Z, Kanye West, Cardi B, and Travis Scott have been spotted wearing cuban chains and have embraced the trend of hip hop jewelry. Join us on this fashion journey and discover the power of cuban link sizes in expressing your personal flair.
In this blog, we'll guide you through the process of choosing the perfect size for your cuban link chain.
Linking Style: Decoding the Perfect Size for Your Cuban Link Chain
When it comes to selecting the ideal cuban link chain length, referring to a length chart can be immensely helpful. Let's explore the various options, from the subtle to the standout: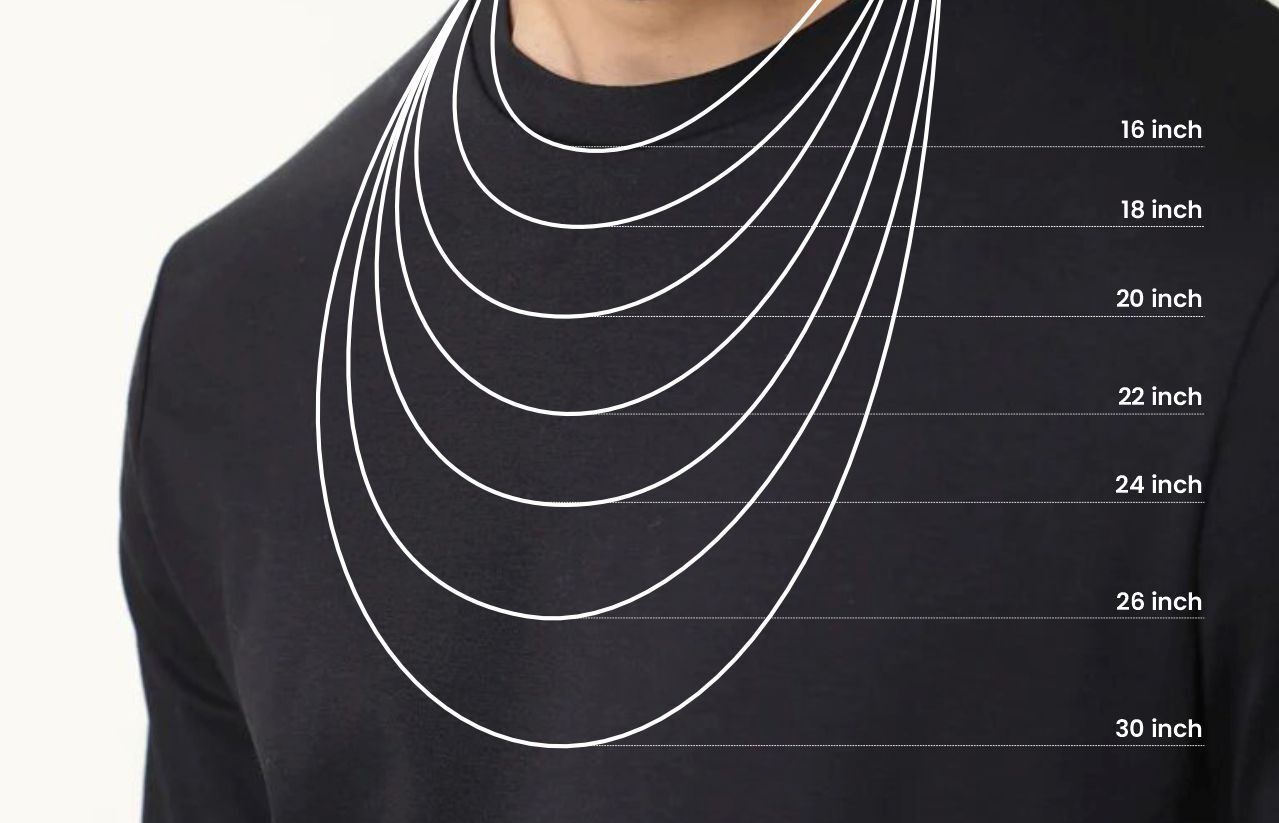 The 16 inch cuban link chain rests snugly around the base of the neck, offering a choker-like effect that exudes elegance and highlights the collarbone area.
An 18 inch cuban chain hangs just below the throat, providing a classic and versatile length and this length is the most popular choice for a cuban link chain.
Stepping up to 20 inch cuban link chain and 22 inch is a big cuban link chain that allows for a more pronounced look, and adding a touch of sophistication to any ensemble.
A 24 inch cuban link chain offers a dramatic length that falls at the sternum, perfect for those seeking an eye-catching accessory to elevate their fashion game with the right cuban thickness.
Those craving a length that commands attention may opt for a 26 inch or 28 inch cuban link chain, offering a striking display that draws the eye.
The 30 inch cuban chain presents a bold and captivating presence especially if its a cuban link diamond chain, draping elegantly on the chest and serving as the focal point of any outfit.
Remember, the length of your cuban link chain is a personal choice that should align with your style preferences for the cuban size and body type.
Consulting a length chart can provide a helpful starting point along with choosing the type of diamond cuban link, but ultimately, trust your instincts and select the length that resonates with your unique fashion sensibility.
Where to Buy Cuban Link Chain?
Discover the ultimate destination for acquiring exquisite mens cuban link chains at RRP Diamond. With an extensive collection of high quality chains in various styles, sizes, and materials, we offer unparalleled craftsmanship and exceptional customer service for any cuban link sizes.
Elevate your style with a statement piece that reflects your individuality and showcases your impeccable taste, all with the assurance of our trusted reputation in the industry for the cheapest cuban link chains. So, go ahead and find that perfect cuban link chain that reflects your style and personality.
In conclusion, cuban link chains remain a timeless and captivating accessory that effortlessly enhances any ensemble. Whether you opt for a subtle and delicate style or a bold and eye-catching statement piece according to the cuban thickness, finding the perfect size and length is key to elevating your fashion game and expressing your unique personality. With endless possibilities, embrace the allure of cuban link chains and let your style shine.
FAQs
How do you measure chain length?
To measure chain length, start from one end of the chain and use a ruler or measuring tape to measure the distance to the opposite end. This measurement will give you the overall length of the chain.
What is the best length for a cuban chain?
The best length for a cuban chain depends on personal preference and style. Generally, popular lengths range from 18 to 24 inches, but shorter or longer options are available to suit individual tastes.
Is a longer cuban chain stronger?
The strength of a cuban chain is determined by its construction and the quality of materials used, rather than its length. A well-made cuban chain should be equally strong regardless of its length. It also depends on the diamond cut of the cuban link chain.
What is the normal cuban chain length?
The normal or standard length for a cuban chain typically ranges from 18 to 24 inches, but it can vary depending on the brand or jeweler. These lengths are commonly available and suit a wide range of individuals.
Is an 18 inch cuban chain too short for men?
An 18 inch cuban chain is considered a shorter length and may sit higher on the chest or closer to the neck for some men. However, it can still be a stylish choice depending on individual preference and the desired look.
How to choose the right size cuban chain for your style?
To choose the right size cuban chain, consider your body type, personal style, and the desired look you want to achieve. Experiment with different lengths and try them on to see how they compliment your features and outfit.
How much should a Cuban link chain cost?
Cuban chains can range anywhere from $775 to hundreds of dollars apiece.
What cuban link chain sizes should you buy?
The cuban link chain sizes you should buy depend on your style preferences and how you want to wear them. Consider options like 18, 20, 22, or 24 inches as they are popular choices. Ultimately, choose a cuban size that makes you feel confident and aligns with your personal style.