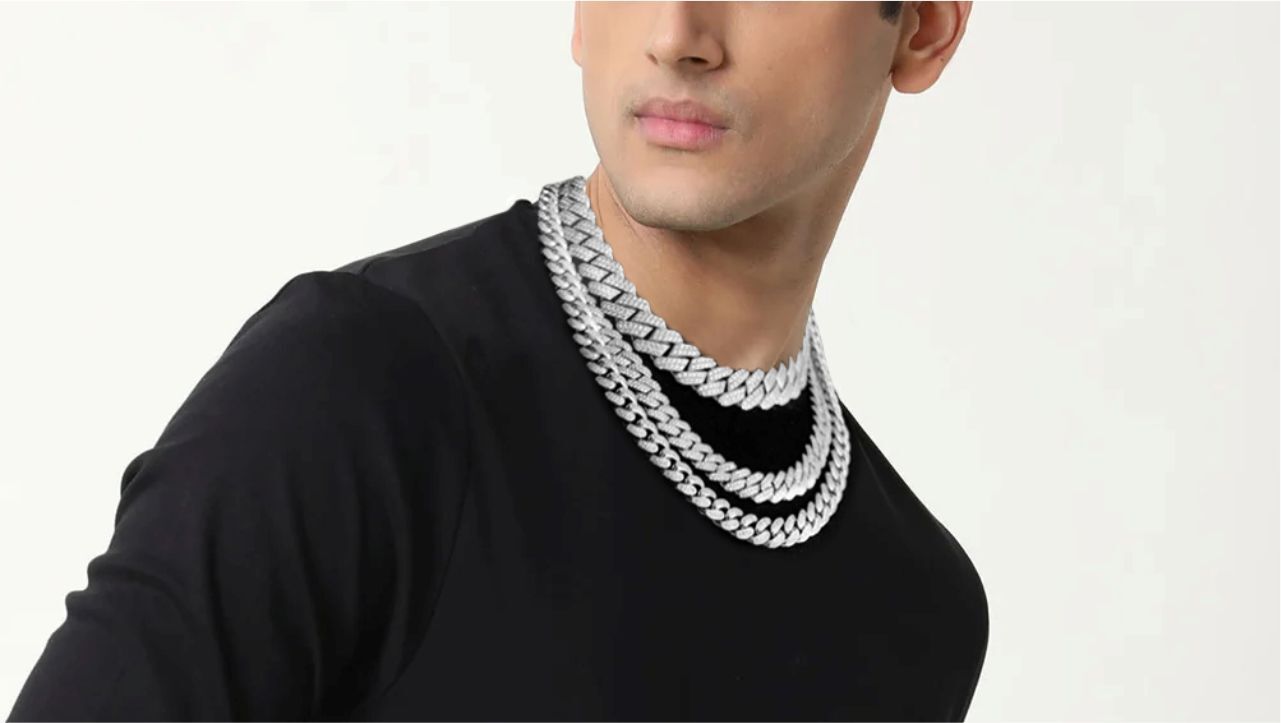 The diamond cuban link chain has been shining bright in the wardrobes of the recent generation. The ongoing street-style fashion allows the cuban link chain to fit in perfectly.
The chain links are crafted together to make unique necklace-like jewelry. The increasing popularity of these chains has started as they are seen as a symbol of luxury. These have primarily become a part of hip hop jewelry. Rappers usually wear a hip hop gold chain or a similar chain in diamond to show how rich they are or how 'hip' they are. This has led to the increasing awareness of cuban diamond link chains and other jewelry of this fashion.
These oval links come together, forming a seamless rope form that creates this statement piece of jewelry. The influence of these hip hop chains is such that both men and women wear them with much interest and passion. They go well with any casual outfit and show prosperity.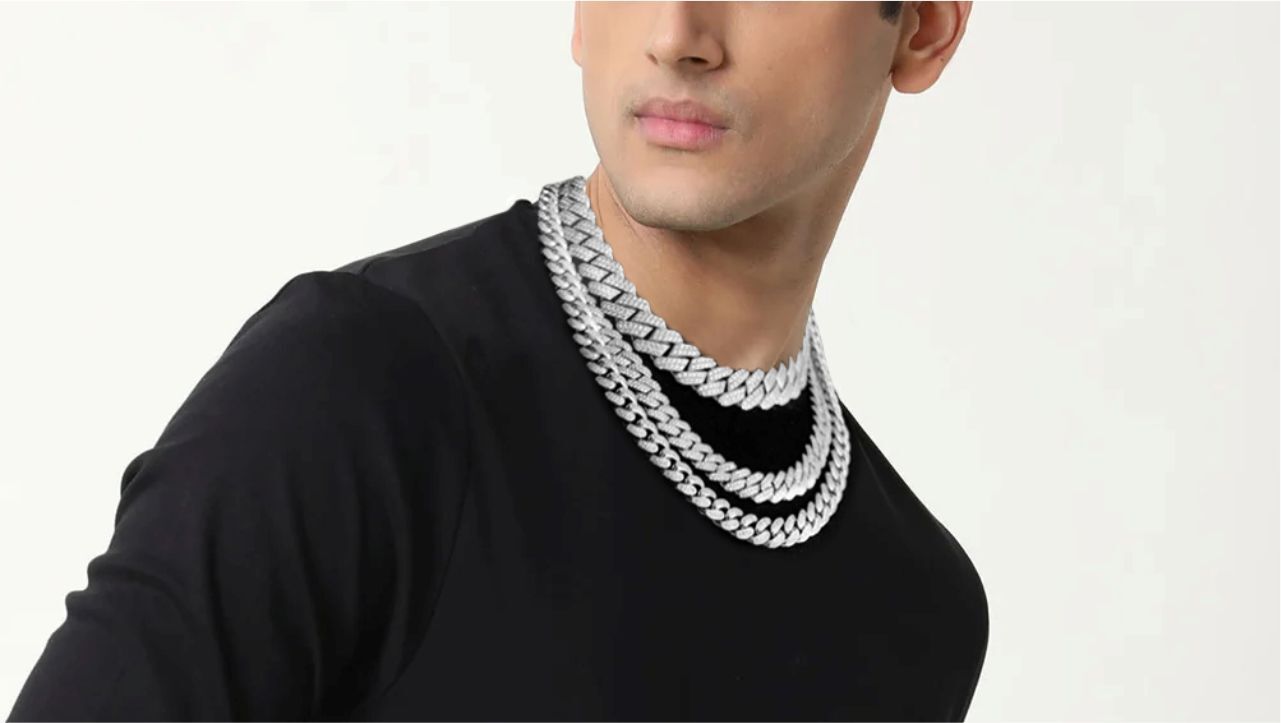 The cuban link diamond chain started as a trend in Miami. It was known as the Miami link chain. The diamond cuban link chain has been in the markets since the late '70s, but after 2000, it saw a massive boost in popularity. The cuban link chain gained awareness during the rise of hip hop. Hip hop artists and fashion icons went on to wear these iconic chains. Even emcees soon hopped onto this trend as the awareness of cuban link diamond chains spread.
What is a Diamond Cuban Link Chain?
A diamond Cuban chain is a type of necklace or chain made with interlocking links and adorned with diamonds. A cuban link chain is a flexible, voguish piece of jewelry with oval or round links. Depending on the requirement, these metal links are available in various metals, resulting in price differences.
This pattern's beauty is that it fits along the skin and comfortably around the neck or wrist region, depending on your chosen size. The evolution of this design has resulted in a functional and durable arrangement for the wearer. It cannot break easily, nor can it lose its shine. It is easy to maintain and a priceless piece of jewelry if in your possession.
What should I look for in a Diamond Cuban Link Chain?
The diamond cuban link chain is the best option from the cuban link chain; category. Cuban link chains come in multiple options. The one thing you should always look for is a more robust metal. The stronger the metal, the more durable the chain will be. This durability ensures prolonged usage of the diamond cuban link chain and allows all sorts of outfits to be styled.
The cuban link chain silver is a good option on a budget, as you will get the combination of white on white which has an extraordinary bling/shine. The varieties of gold cuban chain links come with numerous options and the freedom to choose if you want it in yellow gold, white gold, or rose gold.
The best type of cuban link chain is the diamond link chain, which is aesthetic and tough. One can always customize the cuban diamond link chain with natural diamonds. The diamonds can also be selected based on size, carat, weight and color. The color of the diamond fits in and can be chosen based on the base color of the metal. The presence of natural diamonds enhances the beauty of this funky piece of jewelry. The cuban chain's natural diamonds give a fashionable touch to outfits when paired with a suitable style.
Types of Metal Used to Make Cuban Chain

The cuban link diamond chain is available in a wide range of options regarding the metals they comprise. The cuban chain can look marvelous in all the metals that can be molded into jewelry. Each metal has its own beauty, which one you consider the best is up to you.
The variety of cuban links can be seen below, with a majority of designs in gold finish or silver finish. To keep track of the expenses, some of these cuban chains are made with lesser karat gold or even gold plated.
If the budget is not limited, you can see that a complete gold cuban chain can be prepared to your liking. Some of the common options in the market are gold-plated and gold-filled cuban link chain, 10k gold cuban link chain, 14k gold cuban link chain and sterling silver cuban necklace. These were just some of the few types available. Let's get into detail for a better understanding.
White gold cuban link chain
White gold is a popular metal in cuban link diamond chain designs. This neutral metal will fit into any outfit when appropriately styled. You can also make a bracelet with the white gold cuban link chain if it is more convenient to wear or style. The 10k white gold cuban link chain option is available at a reasonable price and becomes more durable due to other metal alloy additions. 14k white gold cuban link chain is also an excellent metal for regular usage.
Rose gold cuban link chain
With the classic cuban chain link gaining popularity, rose gold is also gaining momentum as a metal for the diamond cuban chain link. Here again, we see 10k rose gold cuban link chain varieties, 14k rose gold cuban link chain, and varieties up to 24k. Women have included this particular style in their outfits to stand out from the crowd. The rose gold cuban link diamond chain imparts a gorgeous feminine edge to the hip hop chains category.
Yellow gold cuban link chain
The yellow gold cuban link chain is the chain that is available in a range of purities based on the karat of the gold used. The higher the purity of gold, the more it will glow. The gold karat variety ranges from 10k yellow gold cuban link chain, 14k yellow gold cuban link chain, 18k cuban chain link, 22k cuban chain link, and the purest quality of gold, 24k cuban chain link. The 24k gold chain has the most refined gold metal, which is also slightly softer and thus not ideal for everyday usage.
Silver cuban link chain
Silver chains for men are also in demand and are prepared of sterling silver to make the diamond cuban link chain more durable and beautiful. The silver cuban link chain is usually preferred when one wishes to stick to a lower budget. These are however not cheap just a bit more in the affordable range.
Width Chart to Identify Cuban Link Chain

The cuban link chain is a classic piece that can be customized and altered considerably. This customization can be done with respect to metal, size, length, and thickness. Here we will discuss the cuban link chain widths. These widths range from a size of 1mm to 20mm.
Since diamond cuban link chains can be worn as neckpieces, bracelets, or anklets, you can alter the thickness of these chains to fit your needs. Out of all the thickness varieties, a 5mm cuban link chain is ideal, not too thick or too thin, and the oval or round links are clearly visible.
The slightly thicker variety of the 7mm cuban link chain can also be worn as a bracelet and used as an alternative to a watch. The thickness of 8mm cuban link chain, 9mm cuban link chain, and 10mm cuban link chain can be worn diversely. The 12mm cuban link chain starts to be more impactful depending on how you wear it.
The 15mm cuban link chain and the 16mm cuban link chain are sizes that are expensive yet show the proper form of the design. All the sizes more prominent than these are the pieces that celebrities or rappers wear. The cuban chain link is a design that is usually worn in sizes larger than 12mm, up to 20mm.
Length of Cuban Link Chain
The length of a diamond Cuban link chain can vary depending on personal preference and the specific design of the chain. However, there are standard lengths commonly available for these types of chains. The most common lengths for diamond Cuban link chains typically range from 16 inches to 30 inches.
It's important to note that when determining the appropriate length for a chain, personal style and comfort should be considered. Factors such as neck size desired fit, and whether the chain will be worn alone or with a pendant can influence the preferred length. If you're pu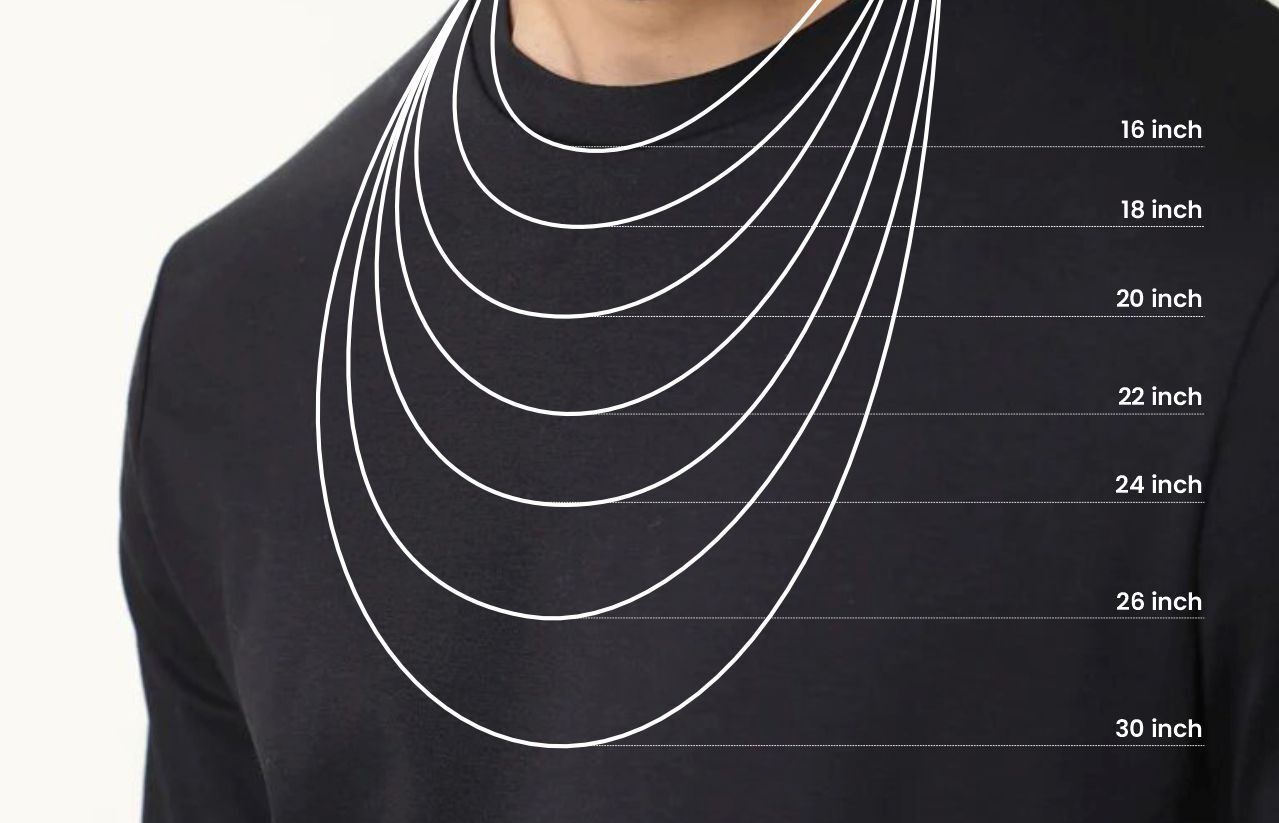 rchasing a diamond Cuban link chain, it's recommended to try on different lengths or use a measuring tape to determine the desired length that suits your needs and style.
Versatile Styling: Cuban Link Chains for Necklaces and Bracelets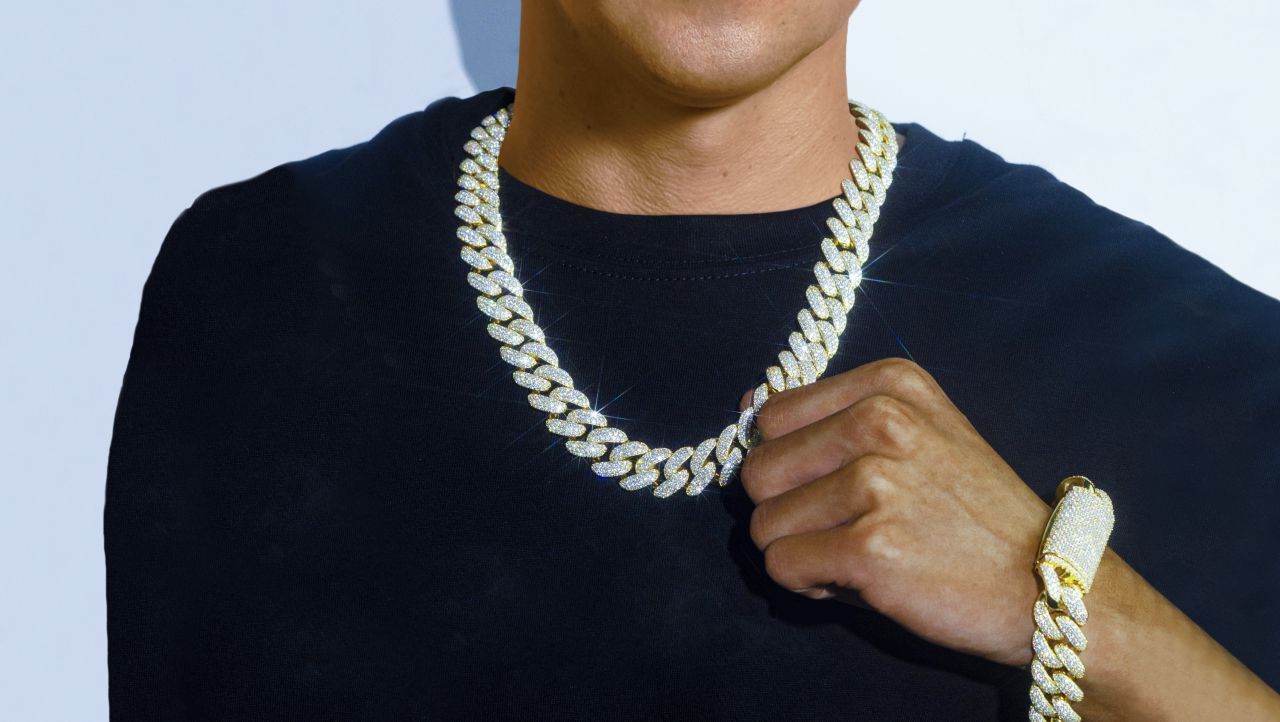 The cuban link chain can be worn diversely as a necklace and bracelet. Sometimes we see that the cuban chain is too long to be a bracelet and too short to be a necklace, in these situations, the chain can be wrapped twice around your wrist and worn as a thick bracelet. The shortest length of the diamond cuban link chain is 7 inches, and the largest is 24 inches. The measurements vary from 8 inches, 16 inches, 18 inches, 20 inches, and 22 inches. These lengths only allow the user to incorporate the piece of jewelry in different ways and style the design that fits the outfit.
Diamond Color & Clarity of Cuban Chain
The diamond cuban link chain consists of natural diamonds that vary in size, color, and clarity. These diamonds can range anywhere from flawless to very slightly inclusive. Since these diamonds are smaller, the inclusions are not very evident. Hence, you would not mind choosing the Slightly inclusive variant of these tiny diamonds for your diamond cuban link chain.
The color of these diamonds usually ranges from F and G. These smaller diamonds do not depict so much color difference when placed all together. Hence the color grades of F to G also suffice sufficiently to bring shine and appeal to your diamond cuban link chain.
If you want a fine quality cuban link chain you should ensure the natural diamonds you are selecting are of the highest color and clarity grade. As they will come together to give off a sparkle so bright that everyone will want to know where did you get your chain from. You can get an idea of the price of your dream cuban link chain by checking out this diamond cost calculator.
Where can you buy a Cuban Link Chain?
There are multiple online stores where one can buy the diamond cuban link chain. We at RPP Diamonds provide a wide range of cuban chain links and cuban link diamond chains. You can customize as per requirement and fulfill your needs. You can select the thickness of the links present in your chain along with the stones you want to use.
Some other offline jewelry stores also provide cuban chain links. A store where natural diamonds are available is an ideal place to order from since they will have trusted quality diamonds that will be added to your diamond cuban chain link.
Conclusion
The trend of cuban link chains is far from leaving the market; hence, we see increasing demand. The cuban chain links are a perfect fit with the present-day street style in movement. The hip hop stars and rappers have increased the awareness of this jewelry style, and hence can be seen worn by many people. The influence of this style spreads far and wide and finds its way into the wardrobe of all kinds of people.
FAQ
How much does a diamond cuban link chain cost?
A diamond cuban link chain can cost around $1000 as the minimum cost, with increasing rates when the sizes increase, diamonds increase, and so on.
How much does a silver cuban link chain cost?
A sterling silver cuban link chain costs around $2000 when chosen of a minimum link size, that is, 2 mm. You can get a 22-30 inch long chain within this range. We at RRP Diamond are an expert in crafting such cuban link chains, feel free to contact us for any queries.
How much is a 14k gold cuban link chain worth?
A 14k gold cuban link chain costs around $750 to $900 since the gold is not as pure as 24k gold. Depending on the diamond used the price can go up to $70,000- $80,000.
How many carats is a diamond cuban chain?
The diamonds in the cuban chain can range from 4 to 150 carats, based on the size of the diamond cuban link chain and the size and amount of diamonds.
Where can I find a high-quality cuban Chain?
You can find quality cuban chains online on certain websites. Many online jewelry websites cater to you for finding the right cuban chain link and customizing it for you. We at RRP Diamond are one of that menufechar where you can get your hands on high-quality cuban link chains.
What is the best cuban chain width?
The best Cuban chain width is subjective and depends on personal style, preference, and body proportions. Cuban link chains come in various widths, ranging from narrower, more delicate designs to wider, more substantial styles.
Why are diamond cuban link chains so expensive?
Diamond Cuban link chains are expensive primarily because of the cost of diamonds. Diamonds are highly valued gemstones, and their rarity, beauty, and demand contribute to their high price. When diamonds are incorporated into a Cuban link chain, their presence significantly increases the overall cost of the piece due to the added value and craftsmanship required to set the diamonds securely within the chain links.