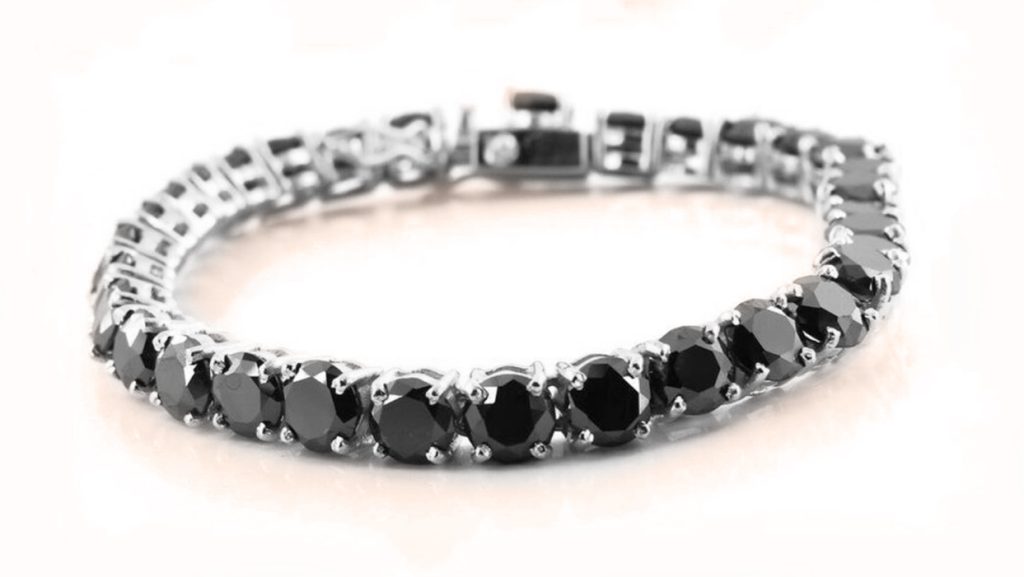 A diamond bracelet is a trend, but what about a black diamond bracelet? Well, something like that is way beyond a trend. The individuality of something so pure and solid that it stands alone is truly charming.
For a diamond to be opposite its conventional idea makes black diamonds so unique. You have seen the beauty and now want to test it out yourself. Well, brace yourself on this trip that will convince you to get a black diamond bracelet by the end of this piece.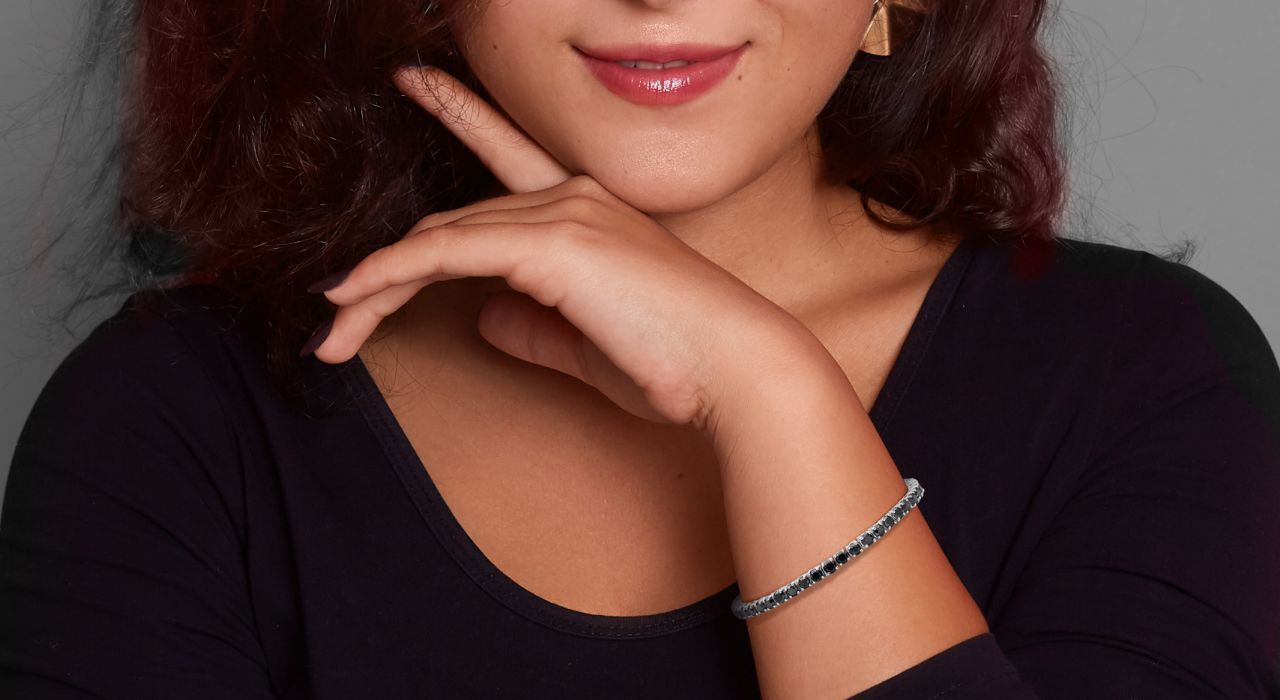 Why choose Natural Black Diamond Bracelets?
Black diamond bracelets are unique and stylish. They provide a sophisticated look that can complement any outfit. Additionally, black diamonds are believed to possess healing properties and can bring positive energy to the wearer. This also makes for a meaningful and symbolic jewelry choice due to its individuality. It is a mysterious little diamond with many possibilities for experimentation with it.
Black diamond bracelets are unique and eye-catching, making them perfect for anyone who wants to stand out. They are versatile and can be worn with various casual and formal outfits. A natural black diamond bracelet can be worn by men and women regularly and on special occasions. A men's black diamond bracelet is usually straightforward, while women's black diamond bracelets have more ornamentation and design detailing.
Choosing a natural black diamond bracelet for someone as a gift creates an impact of sophistication as well as uniqueness. Something so unique is considered a classy choice and would definitely let the other person know how much they matter to you.
The elegance of choice so luxurious is mesmerizing. The beauty of black diamond bracelets is, overall, in terms of the wearer and the viewer. On either hand, it is a very classy affair and can be seen flaunted by many rebels, who refrain from sticking to conventional ways that society dictates. Jewelry marks a very important statement that people tend to make subtly in their day to day lives.
Couples can also choose natural black diamond bracelets as a mark of something special to themselves. It can also be a gift for couples to mark special occasions of anniversaries and weddings.
The Beauty and Benefits of Natural Black Diamond Bracelet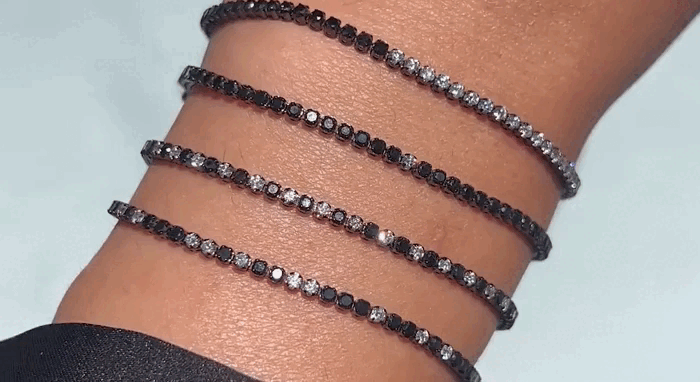 The individuality of the natural black diamond bracelet makes it stand out from so many bracelet options, especially colored bracelet options. Why should the shine and sparkle of white diamonds have all the fun? Colorless diamonds are something that has been at the forefront since centuries now. Doing something different than the crowd is often looked at as a symbol of bravery and authority.
The beauty of the black diamond bracelet is charming as ever and can make us fall in love with it even more. Sometimes, you can see it as a yin yang symbol in the design. The balance of light and dark is the law of nature, and something like that, being incarnated into a bracelet, truly adds a different side of beauty to the real black diamond bracelet.
In terms of symbolism, black is said to be the color that absorbs negative energy. Hence, a melee black diamond can be the stone that absorbs the negative energy around you, leaving you more powerful and energetic. It is also said to ground the root chakra in the body, thus making an individual more stable. This analogy again finds itself in Feng Shui, where it is said to invite more flow into life and opens up doors for more career opportunities in the vase possibilities.
How to choose Natural Black Diamond Bracelets?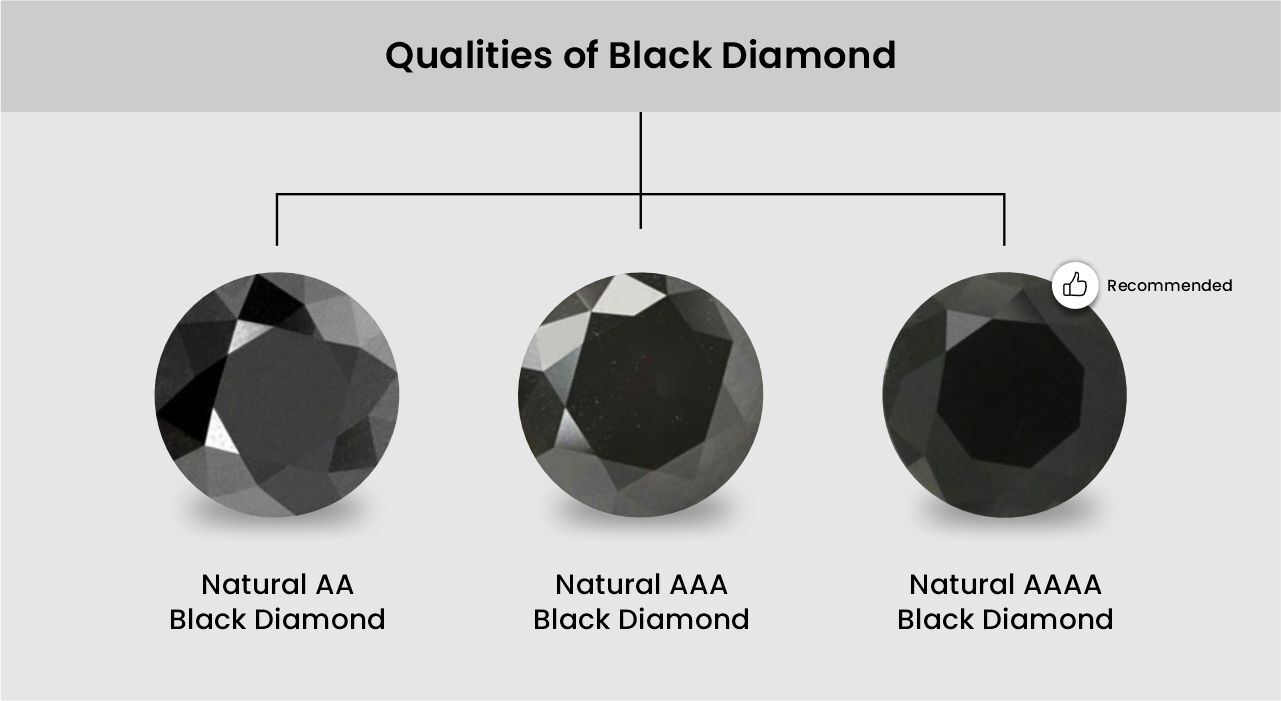 Diamond Selection: The diamonds can be selected depending on the pattern you decide. To choose a natural diamond for your black diamond bracelet, one has to select the carat of the bracelet, so there can be an even division on the diamonds. The diamond shape, cut, and carat will decide the overall appeal and price of the black diamond bracelet. The black diamonds are graded in AAA, AA, and A formats for clarity grading.
Metal: Consider what metal you prefer to set the black diamonds in. The more commonly used yellow gold is not an ideal setting for black diamonds. Instead, a white metal enhances the beauty of the black diamond bracelet more. Another option is rose gold black diamond bracelets which are a distinct choice compared to the conventional style of a black diamond bracelet. So, you know what to do if you want to break barriers. Black metal is another option that will make you want a black diamond bracelet even more, as the 'all black' look has a graceful poise. Look at all these options and decide which one you think will work best with your style.
Setting: A variety of diamond settings can be chosen for these black diamond bracelets. The prong setting is ideal, while the bezel setting is simple and elegant. Other settings in black diamond settings include pave, channel, and halo as well.
Fit: One can choose the black diamond bracelet's fit depending on activity and pattern. A little free space is ideal when it comes to bracelets. But nothing too loose or too tight as that will be difficult to manage.
Maintenance: These black diamond bracelets usually tend to be easy to maintain, but one can always choose a metal setting that will allow low maintenance of the same. A low-maintenance black bracelet will allow the wearer to spend less time maintaining the bracelet and more time enjoying wearing it.
Style: The style of bracelet you are looking for is the first thing you should consider. Whether you want a black diamond bracelet in a chain, tennis, or bangle form is a vital decision. It would be best if you choose which style suits your personality best. A black diamond tennis bracelet set in platinum has to be one of the most elegant pieces of jewelry in the market. Such calibrated black diamond bracelets have seen rising popularity due to the classy appeal of black and white.
Lifestyle: Considering your lifestyle is another important aspect. What are you looking for? A bracelet to wear for work or one for leisure? Or do you want one which fits both categories? Based on your day-to-day activities, you should find something that aesthetically matches your outfits and can endure your daily routine. Black color diamond bracelets provide many such varieties. Suppose you are an adventure junkie but prefer to wear jewelry while you can. Selecting something durable and aesthetic is a wise choice. For people who work white-collar jobs or are a homemaker, Charm bracelets are a beautiful option.
Do you need high Black Diamond Quality for a Bracelet?
It is not necessary to have a high-quality black diamond if the stone is to be placed in a bracelet. As the impurity in black diamonds is not evident, and due to the small size of the diamond, it is difficult to see any degradation with the naked eye. If the diamond is of higher quality, check the certificates for the same. This is to determine the value of the black diamond bracelet.
Find Natural Black Diamonds at RRP and create your favourite Bracelet
Finding the right design for your personality and lifestyle is ideal. Designing a custom-made black diamond bracelet is an intimate experience for some people since it depicts their personality.
You can start by choosing what grade of natural black diamond you would prefer to have in your black diamond bracelet. After that, you can choose a particular metal in which you prefer the diamond to be crafted into. The idea of custom-made designs is the liberty to choose the base metal and stone, as well as the design, pattern, and setting of the diamonds. The base of the design process stems from the choice of the type of bracelet- a tennis bracelet, bangle type bracelet, cuff bracelet or any other option.
After this, the diamond sizes can be chosen based on the finalized design. The settings can also be selected at this point, making the design more prominent. This will create the impact you wish to see in your black natural diamond bracelet. A Black diamond bracelet for men and a black color bracelet for women will be truly different but will open up vast possibilities for different designs and varied choices.
Black Diamond Bracelet for Gifting
A black diamond bracelet can make a thoughtful and meaningful gift for a loved one. It's a timeless piece of jewelry they can wear for years. It can be gifted to mark important milestones, like birthdays, anniversaries, graduations, and anything that holds importance in their lives. This small gesture allows you to show them how much you cherish their presence in your life.
Conclusion
Whether you're looking for a unique gift or a quirky yet classy addition to your jewelry collection, a black diamond bracelet is an excellent choice. You can find the perfect one with a range of styles and options.
The number of styles and varieties available in the black diamond bracelet segment are unimaginable. These black gems will blend in with your style and outfits, making you stand out in the crowd. This article was articulated to give you the best insights into how the black diamond bracelet market is flourishing and being accepted.
FAQ
How much does a natural black diamond bracelet cost?
Prices vary depending on the diamond quality, metal type, and bracelet style, but they typically range from a few hundred to several thousand dollars. They usually range from $100-$1000, or even more depending on the designs and patterns. The black diamond bracelet price does justice to the gorgeous and outstanding piece of jewelry there is.
Are black diamond bracelets common?
While black stone bracelets are becoming more popular due to their individuality and unique personality, they are still considered a rare type of diamond jewelry. It is gaining more awareness due to its unique characteristics. The designs can be similar to those of diamond bracelets, but black diamond bracelets' charm always leaves a great impact.
What is the most durable metal for a bracelet?
Platinum is the most durable metal in which a black natural diamond bracelet can be set. It is also a metal in which black diamonds are enhanced. Gold and silver are also other great options for a black diamond bracelet, but they are slightly less durable than platinum and require more maintenance.
What are the top styles/types of Black Diamond Bracelets that are trending right now in 2023?
As of 2023, tennis bracelets, bangles, and cuffs with black diamonds are trending. However, multiple opportunities exist to implement your identity and choose from vast customization options.
Black diamond bracelets also feature intricate details like pavé diamonds or filigree work. Another style of black diamond bracelets in 2023 includes minimalist designs, mixed metals, and personalized pieces with initials or birthstones.
Can I wear a black diamond bracelet every day?
Yes, you can wear a black natural diamond bracelet daily, but taking care of it properly is essential to ensure it lasts. Finding something that fits comfortably and suits your style is ideal. The durability and maintenance of the black diamond bracelet will be determined by the metal it has been set in.