Have you ever noticed the smaller diamonds that are placed in a jewelry design? They seem insignificant but are in all honesty they are an integral part of not just jewelry designs but the entire diamond industry.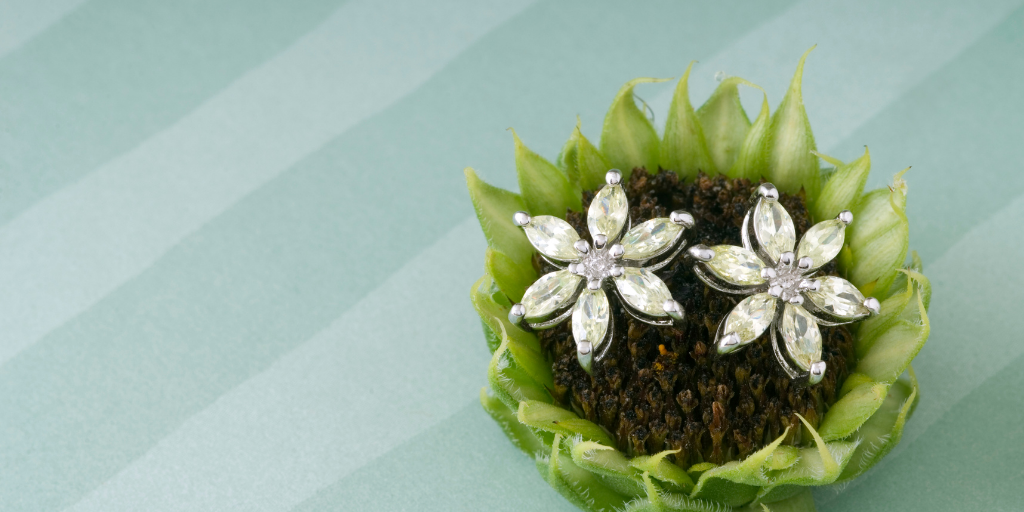 Diamond accents are by definition the relatively smaller diamonds placed in compliment to the primary diamond in a jewelry design. Diamond accents enhance the brilliance of the entire design and add exceptional detail and beauty to it. 
Countless diamond jewelry designs do not look half as good without the addition of diamond accents. In short diamond accents might not be as talked about but they are an integral part of the diamond world.
Are diamond accents real diamonds?
One of the biggest questions about diamond accents that people ask is, 'are diamond accents real diamond?' Well to clear all your confusion, yes diamond accents are very real diamonds made of the same material the central or primary diamond is made of. Diamond accents have a certain difference from primary diamonds which are almost always the size and carat weight, other than that they are pretty much the same.
Different kinds of diamond accents
Straight Baguette diamond:
Straight baguette diamonds are known for their impeccable symmetry. This type of cut is known for its large facets. When you look into the middle of the diamond, it appears like a downward staircase. Straight baguette diamond accents are preferred in symmetrical designs especially art deco style jewelry.
Tapered Baguette Accents:
A tapered baguette accent is very similar in terms of appearance to the straight baguette diamond, the only difference being, the outer circumference is not a rectangle but an isosceles trapezoid. 
The tapered baguette accent is preferred in three-stone designs and generally paired with emerald cut central diamonds. In appearance, it has large facts and the inside of the diamond appears the same as a straight baguette diamond.
Brilliant Cut Trapezoid:
A brilliant-cut trapezoid is loved in the diamond accent world simply because it is very versatile to work with. The brilliant-cut of course makes it extremely lustrous. 
A brilliant-cut trapezoid is largely used with Asscher cut diamonds or princess cut diamonds because it makes for great symmetrical designs. You can find such diamond accents heavily used in the victorian style jewelry and art deco period.
Also read: The our C's of Diamonds
Step cut Trapezoid
A step cut trapezoid is one of the types of trapezoid characterized by its large facts and unique cutting style. Loved for its appearance it is used extensively with emerald-cut diamonds. The step cut trapezoid is also a popular choice of diamond accent in three stone engagement rings.
Crescent cut Trapezoid
The crescent cut trapezoid diamond accent is a fairly decent advancement and it is being adored by the diamond industry. 
Why? Because for a really long time, jewelers have been trying to use trapezoid diamond accents with round cuts, but it is only because of this recent innovation it is possible to use round cut diamonds with trapezoid diamond accents.
Rounded Trillion cut diamond accents
Trillion cut diamond accents are triangle-shaped diamonds. The cutting style is very similar to the princess cut diamonds. 
The rounded trillion cut diamond accent has curved edges which give it a soft and ethereal look. They are also greatly used in three stone diamond engagement rings. They are one of the best side stones to round brilliant cut diamonds.
Pointed Trillion cut diamond accent
The pointed trillion cut diamond also has a triangle shape, but the corners are pointed. They are very symmetrical, have wide tables, and also resemble princess cut diamonds. Pointed trillion cut diamonds add grandeur to any piece they are put in. The edge corners give them a great shape, definition as well as symmetry.
Classic Round diamond accent
The classic round brilliant cut diamond accents are the most widely used of the entire diamond accent range. 
They are super easy to work with be it any diamond cut or design. You can use them as side stones, in a pave setting, and even in gypsy settings. They come in many sizes which makes it even more efficient to use them in a multiplicity of designs. 
Round cut diamond accents can be seen in almost every engagement ring design because they accentuate the primary diamond without taking attention away from the central piece.
Marquese cut diamond accent
Marquese is a cut available for both primary central diamonds as well as diamond accents. 
Marquese diamond-cut accents are widely used in pave and channel setting to beautify the band of the ring. Marquese diamond accents also have been used as side stones to the primary diamond. 
They look absolutely magical and add charm to any and every piece of diamond jewelry.
How to choose the right diamond accent?
Carat Weight: Diamond accents are relatively lighter than primary diamond and they weigh in the range of 0.01- 0.02 carats. You can always go for a heavier diamond accent based on personal liking or the design.
Clarity: Diamond accents are smaller in size and hence it becomes a little difficult to judge their clarity from the naked eye. 
Always try to choose a diamond accent with the same clarity as to the primary diamond and if not then try only going a grade below on the clarity scale, because the purpose of diamond accents is to add glamor to the ring, and the more clear they are the better their job is done.
One thing to remember here would be to not diamond accents that are clearer than the primary diamond because that would shift the focus of the entire design.
Color: Choosing the color of a diamond accent depends on the primary diamond and the design of the ring. If the primary diamond is colored then try choosing the same shade or colorless diamond. If the demand for the design is to choose a different or contrasting color then go ahead with that. Remember if your primary diamond is colorless, then choose the same quality in terms of color for your diamond accents.
Cut: Pairing the right diamond accent cut with the right-shaped diamond is important. We recommend that you take professional advice from your diamond retailer. However, pairing symmetrical cuts like a primary emerald cut diamond with a trapezoid diamond accent will always look good. You have to mix and match and see which cut suits your primary diamond and design the best.
Also Read: Difference Between Real Black and Treated Black Diamond
Conclusion Thoughts
Diamond accents can precisely be called tiny diamonds which help the primary diamond look better. They accentuate and add glamor to the design and help in achieving a beautiful diamond jewelry piece.
Diamond accents bring together the entire piece of jewelry and this is why it is so important to know about them and select them carefully. This guide is specially curated to help bring you closer to the perfect diamond's design by enhancing your knowledge about diamond accents. 
We hope this guide helped gain more insight into diamond accents, what are their various types, where they are used, and what is the right way to buy diamond accents.
Happy Shopping!