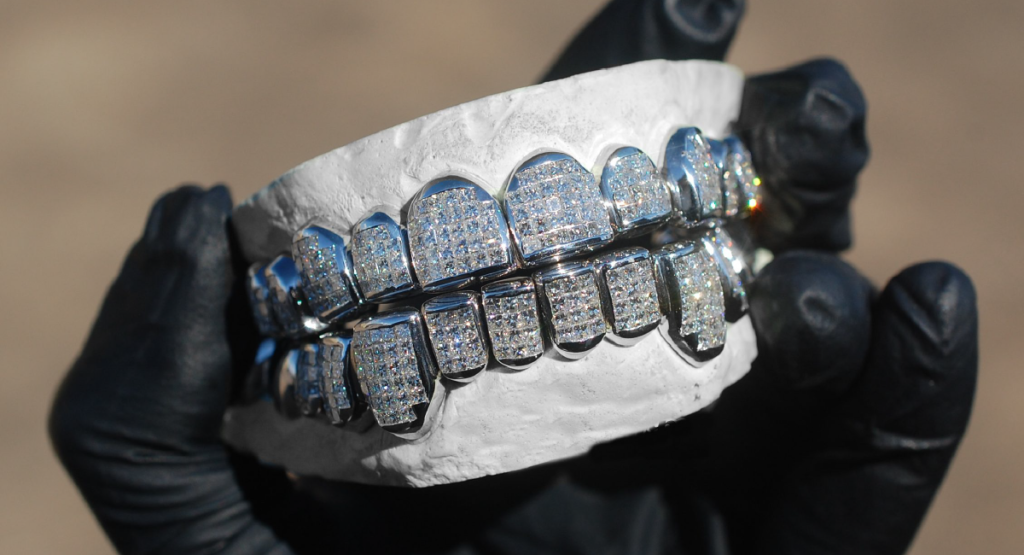 The Grillz culture got famous through hip-hop culture in the 1980s. In the 202s it has become a piece of jewelry which gives a bold statement. It has now become popular all over America from New York fashion week to Los Angeles Street, gold grillz can be seen adored by people. 
When it comes to grillz there can be more options than one can imagine from a solid gold traditional grillz or a fully diamond iced grillz. You can also customize your grillz to say something or represent something. There is no limit to choices when it comes to design. 
With the availability of customizable options, any individual can get confused. So, we are here to help you decide which type of grillz is right for you.
First of all, you have to decide which design suits you better to get an idea of your style. We suggest choosing a design that represents you the most.
If you can't decide what to choose, try a Solid Gold Grillz. If you don't want a heavy type, go for an Open-Faced Gold Grillz. If you like a heavy one more than a Fully Iced Set is a good choice for you.
Another important thing to take into consideration is the color of your grillz. There are many options like rose gold, white gold, and yellow gold. You can choose anything which goes with your preferences. There are no good or bad colors, it's your decision to make. Select a color which matches your personality. Most people tend to go with traditional yellow gold or white gold.
If you are thinking of gold for your grillz, you can get 14k gold, which will make a well-balanced grillz. If you want more gold in your grillz, premium carat options are available. You can get grillz in 10k, 14k, 18k & 22k gold.
It is recommended that you buy from a reputable store/brand which provides high-quality items that are certified. Their way of making will add durability, aesthetics, and proper fitment to your diamond grillz. A suggestion from our side is, that If you own a lot of gold jewelry, consider buying a rose gold set of grillz. This will make your diamond grillz look unique.
When you are going for a diamond teeth grillz, it is important to know about inclusions and blemishes which you will see on diamonds. These inclusions are calculated by giving diamonds a clarity grade. 
Very slightly included (VS) or Slightly Included (SI) clarity grade can be your optimal choice. But if you upgrade to a VVS clarity on your diamond grillz it will make the piece more brilliant. A stronger and improved quality of diamonds will be used to make such a beautiful diamond grillz set.
A diamond teeth grillz can be a great method to make necks turn to get a good look. A quick shiny smile full of diamonds can take anyone's heart easily. Once you get happy with your gold grillz design which suits you, then you will unlock many options for how you can fix the diamonds in your grillz.
You can also keep it simple by going for only

one diamond grillz cap

.

The open-face grillz is a modern form and also looks cool, it can glance perfect with any look.

One can also have a saucy look with a drip grillz. It looks like gold is flowing on your teeth, which is pretty cool.

You can also have a gap of mysteriousness by having an innovative double cap grillz and space between the two. You can cover the sides as you like, and also can have a unique pattern.
When you are considering customized grillz, there is no limit on customization. If it can fit on the grillz it can be made. Many popular celebrities and influencers also have teeth grillz, you can also take ideas from their grillz.
Now, if we talk about the price of grillz you should know that a single-tooth diamond that has been set on 10k gold is going to cost you around $200. You have to pay around $1,100-$1,300 for an 8-tooth diamond grillz which has been made in a 10k gold grillz. 
A diamond grillz can cost you up to a million dollars. Many celebs and rappers generally like to go with diamond grillz. Katy Perry has the most expensive diamond grillz which is worth 1 million US dollars.
Generally, large stones are used in diamond tooth grillz. Because of this VVS clarity-grade diamonds are rare in these categories. VVS is a high clarity grade and has over small inclusions which cannot be seen by the naked eye, only visible to high magnification done by experts. 
This quality of a diamond is not commonly present in every store. You can find these diamond grillz only from selected manufacturers. It should be noted that your diamond grillz is completely secure as the diamond has been locked in the gold base.
Also, VVS clarity-grade diamonds are very expensive. They are going to cost much more than the price of SI or VS diamonds. 
The single teeth VVS diamond can cost you more than $2,240. And over $16,500 for 8 VVS diamond grillz. Hence, if you are on a budget go for a VS of SI diamond grillz.
Tips for choosing the right grillz: 
Is it for an occasion

– first you have to look whether you want grillz for daily wear or an occasion. If it is for an occasion then the grillz you choose must be More flashy or shiny to make you the center of attraction. On the other hand, if it is for daily wear you should go for simple and a little lightweight grillz.

Size of your teeth

– you should try a different type of grillz before buying because everyone's teeth are different and therefore grillz are going to look different on different faces. Also, some grillz are created for big teeth to look pretty. Whereas some grillz are created for small ones.

Budget

– Grillz's price can range from a hundred to a million dollars. It is important to know your budget before going to start shopping and selecting one. You can also manage your budget by choosing a slightly lower grade for a diamond's features. 

Choose as per your style-

you should go for a style which suits your personality. You can add your own taste by customizing it. You can go for gold or silver, bizarre or simple, striking or traditional. There are sky full of options for you. 
Ending Remarks
Buying a diamond grillz may not be an easy task as not everyone makes them. Be sure to go to a trusted brand/store that way you will not be duped in any way.