What is Rubellite Tourmaline? The Value Of Rubellite.
RUBELLITE, the name originates from the beautiful language of Latin and translates to the color red. A Rubellite stone belongs to the family of gemstones called Tourmalines.
It's said that the color Red Symbolizes desire, love, passion and ambition. The stone's color may vary from Red to Maroon to Pink to Violet. The stone is a prized possession in the Tourmaline family. The stone is known for its rare essence and utter beauty.
Due to its color and look, rubellite is usually confused with rubies, but rubellites are far rarer compared to Rubies and in addition to that there is a variation of color between the two stones, Rubies have a darker and richer undertone whereas rubellites are more on the lighter side of the color palette.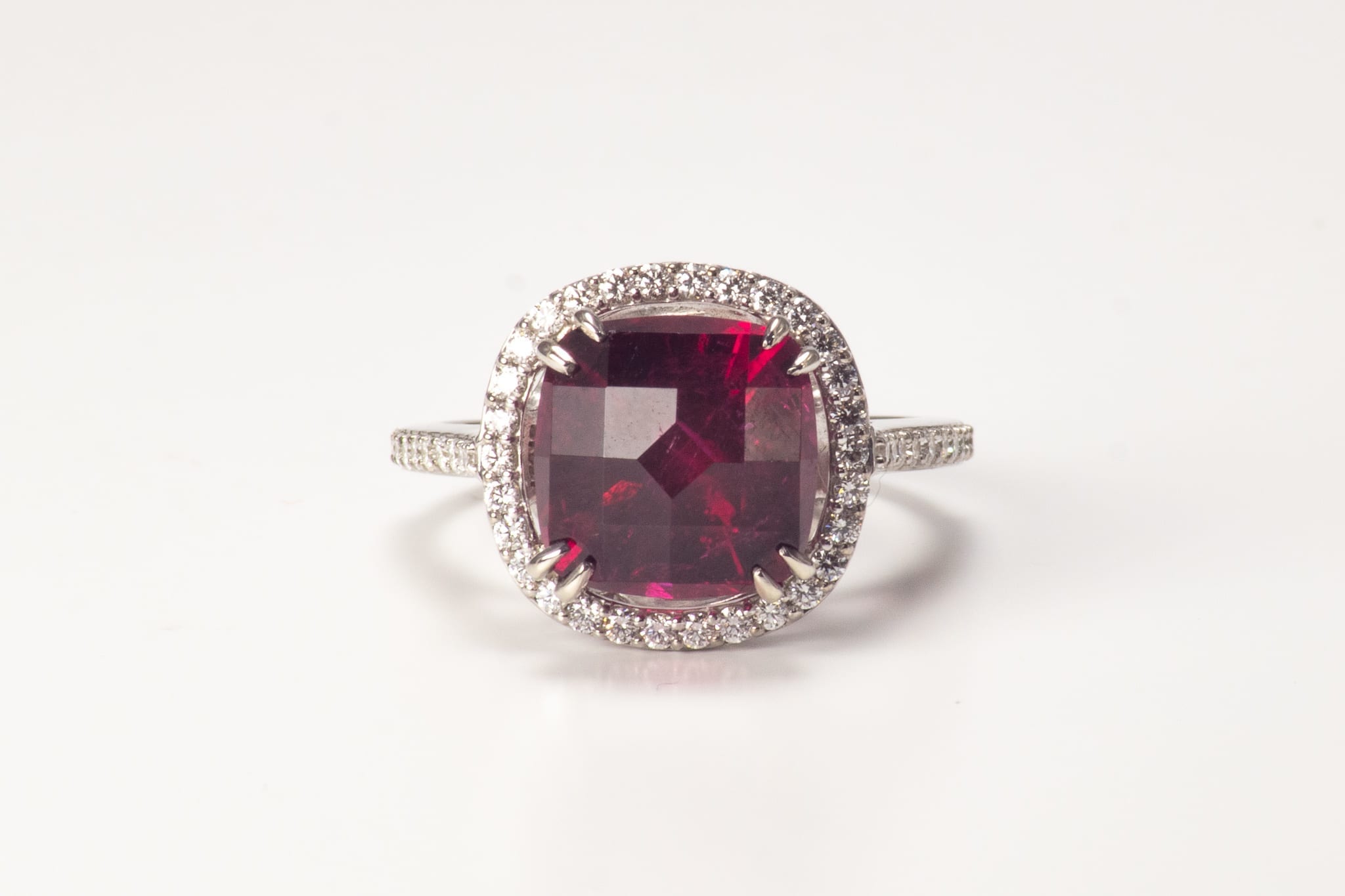 What do Rubellites symbolize?
It is known that Rubellite stones possess high levels of positivity and happiness in the wearer's life. There will be a surge in the amount of optimism and prosperity in the owner's life and the stone is believed to bring calmness and emotional balance during suffering. The stone helps in settling aggression and promotes tactfulness. It's said that this stone also helps in building physical strength and vitality. A Rubellite stone has properties that increase affection and love in the wearer's life. Rubellite stones are a symbol of love.
Rubellites are also an amazing gift for your friends and loved ones. These stones bring self-love hence strengthening your relationships with people. As stated, rubellites are symbolically good stones be it for the wearer or the people around them.

Also Read: Tips For Beginners Diamond Trader – How To Get Started
What is so special about rubellites?
Even though rubellites are often confused with rubies, their beauty and features surpass that of rubies. Due to its beautiful look with undertone tones of red, this gemstone is one of the most loved jewelry stones and the price of the stone matches the stone's worth. 
Rubies have become a rather common stone in the new day and age. Even though buyers prefer rubies over rubellites due to their price, rubellites are unique in their way. After all, who wouldn't want an expensive stone in their jewelry boxes?
Where is Rubellite found?
Rubellites are found and traded from various locations around the globe including countries like Brazil, Madagascar, Mozambique, Russia, United States, Afghanistan, Nigeria, Pakistan and Myanmar.
Even though the stone is found at the places mentioned above, they are still quite rare, hence they are expensive.
In recent times some of the African deposits have found cleaner stones. However, these rubellite stones that are newly yielded, have a tone of brown or orange. These stones are prized lower than the red, violet, deep pink etc.
How to figure out the quality of your rubellite stone?
Rubellite Shape, Size and Cut
A Rubellite stone has a level of about 7 to 7.5 on the Mohs scale which determines the hardness of a stone. The beautiful shiny stone has a lustrous nature and a high refractive index, which essentially enhances it's brilliance. It is very versatile to work with hence the stone can be cut into any shape or cut, giving the designers the flexibility to design and set the gemstone.
The highest value cuts for rubellite stone are brilliant cut and checkerboard cut.
The buyer must always check the proportion, cut, symmetry and reflection before buying. And the GIA (Gemological Institute Of America) certificate is the most important aspect before buying any stone. The GIA certificate gives you a complete insight into the information of the gemstone or the jewelry piece.
Rubellite Color
The Rubellite stone is mostly known for its beautiful color.
The most valuable rubellite stones are the ones that have a deep pink or deep crimson color. Their color resembles a lot like that of rubies but rubies are darker and deeper in color whereas rubellites have a clearer color with tints of beautiful crimson, red or pink color. They can come in distinct colors from red to vivid pink.
A Rubellite stone doesn't change its crimson color in different lighting or varying brightness.  A fun fact about the stone would be that it does get electrically charged on heating, the process is known as PYROELECTRIC.
Also Read: The Never-Ending Enchanting For Natural Diamond Beads
Clarity of Rubellite
It is always important to check and understand the clarity of the stone you buy.
A rubellite stone is a type III gem hence containing a high number of inclusions. Buyers of gems usually prefer clean, untreated gemstone mostly.
This means that most of the rubellite gemstones mined come with several heterogeneities such as mineral inclusions, cracks, chipping, gas liquids, hollow air tubes.
Enhancements of Rubellite
Rubellite gemstones are now treated with IRRADIATION, a gem treatment used for producing better and stable red tones in pink undertones. Rubellite stones with high inclusions, also take the similar fillings that are used emeralds. Rubellites can be shaped flexibly into any shape and form. As rubellites have no cleavage at all, the stone is easy to shape and cut. You can choose to set the stone any way you want.
How to take care of your Rubellite rings and jewelry?
For normal stones, you can use any type of setting but if you are opting for highly included stones, you might want a more protective setting to go with it. Rubellite stones are known to be durable. It's important to understand that filling treatments, and high inclusions sometimes make the stone sensitive and vulnerable to heat. Hence, mechanical cleaning would be dangerous for the stone, rather you can opt for something more of a home cleaning solution. You can use a sponge and a mild detergent and warm water to clean your stone, only if you are wearing the gemstone jewelry in your day to day life.
There are a variety of tests available in the market that can help you with the treatment of the stone such as Inclusion Filling and Irradiation– hot point testing or Fourier transform infrared spectroscopy (FTIR).
But one needs to keep in mind that such tests are dangerous for the stones, as they can damage the stone or its surface as hot point testing is a part of this hence these tests are not recommended by us.
Is Rubellite and Pink Tourmaline the same?
Both these stones belong to the family of Tourmalines and have a similar pink undertone. But stones are known for their distinct colors. Even though these stones seem to be similar but rubellite stone has its different color.
Rubellites have more of a deep reddish-pink tint or a more crimson shade but whereas Pink Tourmaline comes in shades of pink.
Rubellite stones have their standard crimson color under any different light and it stays a deep red color. Rubellites cannot change colors if there is a difference in light. If you see a color difference, then you can be sure it's a Pink Tourmaline.
Rubellite Jewelry
Rubellite stones are very magnificent when it comes to appearance. Rubellite jewelry is more wearable and they have good durability, they are very easy to maintain and the best part, due to their hardness, Rubellite stones are easy to shape into versatile shapes and cuts.
Be it any kind of jewelry, earrings, bracelets, pendants, anklets etc., a rubellite stone in a good to go gem for any kind of jewelry setting.
If you want a more cheek look to your rubellite jewelry, try opting for something more on the whitish or more metallic settings. It would give your jewelry a more modernistic vibe. But if you are choosing something vintage and old school, then you can choose a more rose gold or gold band for the setting. You can choose various settings, with rubies on the sides and one rubellite in the center.
A lot of people say, pink and red don't sit together, but a rubellite stone in a rose gold setting will give a very elite look to your jewelry.
Rings
You can use a lot of colored metals with this beautiful stone. The stone's transparency and magnificent shine make the stone one of a kind. You can choose from various designs and settings to bring out the best in the stone. White gold, silver, platinum, rose gold, gold etc. pair up perfectly with a Rubellite stone.
Pendants
Who doesn't want a red stone pendant? Paired with different smaller pendants, the look of this would give you a perfect minimalistic glam look. Chain pendants or ball chain pendants paired with a single stone would create a vintage vibe and small jewelry pieces are already in the market.
Earrings
Earrings are something that define your face, hence rubellite earrings would perfectly match any occasion. An earring with a small and big stone would work wonders with your look or you can choose something more dramatic. You can choose earrings with a bigger rubellite stone in the center paired with diamonds, emeralds, rubies etc.
A Rubellite Engagement Ring: yes or no?
The new-age couples have started to opt for something more urban and something with a new style rather than the all-time favorite and conventional Emerald cut diamond ring. But, do keep in mind the hardness of the stone. Rubellite stones require more care and are high maintenance.
But, if you want a Rubellite ring, then keep in mind to set it in a protective setting such as a halo setting or a bezel one. It's important to know that this stone is worthy of the money it costs, hence you need to protect it at all costs.
If you want to know the price of a rubellite stone ring paired with a rose gold band and diamonds, here is an example; Natural Rubellite Tourmaline Ring, 925 Sterling Silver, Rubellite Gemstone would cost you around US$160 according to Etsy.
Rubellite jewelry, Rubellite Pendant, 925 Sterling Silver Plated Pendant, Handmade Jewelry, a product of Etsy, would cost you around US$170. You can find various other sites or locations where you can find rubellite stones or jewellery.
Where can I buy my Rubellite stone?
As Rubellite stones are very rare to find, their jewelry too wouldn't be too easy to purchase. Don't go around searching jewelry shops for rubellite stones rather, go to a renowned and trusted showroom or online trusted jewelry brands or gem specialists such as Etsy and online shopping markets like Amazon.
There doesn't need to be only rubellite jewelry available in the market, you may also find various antique pieces. You can look for a whole lot of different products with rubellite stones.
Price of Rubellite gemstones
Rubellite stones are not in high demand  in the market till now because they are costly and very rare to find. A single carat of a good quality rubellite will cost you around $400 to $1000 depending upon the color, carat, cut, quality etc.
Also Read: Raw Diamond: The Most Elegance Diamond Type
Conclusion Thoughts
Rubellite stones are rare and unique hence highly expensive.
Rubellite stones have a high number of inclusions. Hence, as long as the inclusions do not make the stone blurry or milky, they do not affect the value of the elegantly colored stone. Good quality Rubellites can cost you about and around $450 to $1,500 per carat depending on the color, size and clarity of the gemstone.