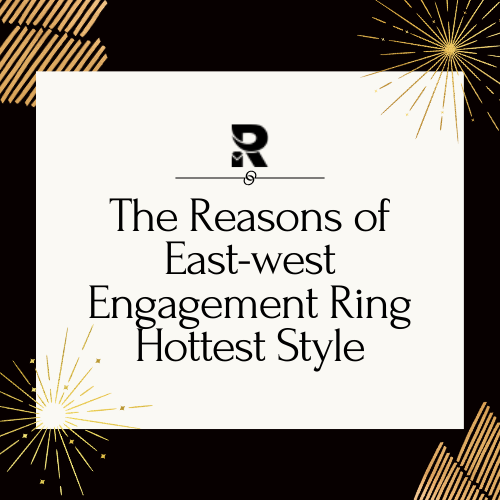 We all are well aware by now that even a global pandemic cannot halt the wedding season, and most certainly not an engagement season if anything, more and more people are looking forward to professing their undying love and putting a diamond ring on that finger. 
When it comes to selecting a ring for your significant other, some people go with the trend while some already have a fantasy planned all in their head. For the former group of people who wait for the last minute to plan or wish to go with the flow of their spontaneous decisions. There is no reason to fret as engagement ring trends are still on display, while people and designers might be getting more and more creative, tapping into their creative sides during the lockdowns and the curfews. 
When it comes to selecting an engagement ring, the most important thing in selecting one is that your partner should absolutely loves it. As far as preferences are concerned, everyone has one. From Hollywood celebrities to duchess and the princesses of the Royal Family. Their notable backgrounds and personalities greatly influence the choices and preferences of the common people. However, with the alternating trends, uniqueness has become a new thing. New and recent couples are now seeking something unique compared to the traditional round-cut solitaires or even an exact copy of someone else's engagement band.  
People who are feeling more adventurous take on a bolder approach to engagement rings by selecting colored stones, fancier diamonds, and even multi-stone engagement rings. The classic solitaire may never truly be out of style; however, it sure has gotten a more modern twist to it. 
Women's diamond engagement rings have become more meaningful than just a commitment ring. It has become a means for people to express themselves and their individuality. Hence, they all want a piece that explains them perfectly. Hence everyone wants to find a perfect natural timeless diamond engagement ring that would at least look good for a few decades. 
Trends have seen a fall and rise through the years and 2021 is no exception to that. As the year 2020 commences, we see the most in-demand, hottest styles of the season. Although the classics are never truly out of style. 
However, this year we can see a subtle shift in the perspective of young couples who prefer to modernize a timeless classic bringing more nuance to an otherwise traditional ring. That look is the east-west style of engagement rings.
What is the east-west style?
The East-west style is unique and gives a modern twist to traditional engagement styles. The style involves simply turning the stone on their sides. 
Some of the most classic cut styles such as the emerald, pear, oval, and marquise cut diamonds receive a fresh perspective to them. Even cushion cuts are set horizontally in a west-set engagement ring to give it a more unique aesthetic. 
We can hope to find the North South East West rings everywhere by the end of this year. It may even be the hottest style of the decade.
With most of the modern brides having such a strong preference for unusual stone cuts and non-traditional designs, it is almost unquestionable as to why the east-west style of engagement rings is on a rise.  The North-South East-West prongs and the East-West cuts are going to become more prominent over the course of time. 
Also read: The Benefits of picking up Naturally Mined Diamonds
How did the East-West Engagement Ring become a trend?
Although this is not a new design, it has resurfaced as it is a fresher take on traditional rings that alternatives brides are sure to cherish. As a matter of fact, some A-list Hollywood celebrities have been adorning this style, seeking to express their uniqueness for decades. 
Some celebrities seen with the east-west rings are the ones worn by the Oscar-winning actress Catherine Zeta-Jones in 1999. Her engagement ring received by the Hollywood legend and Academy Award Winner Michael Douglas was an incredibly sized 10-carat diamond set marquise center surrounded by a halo of 28 smaller glittering diamonds reportedly costing the man nearly 1 million dollars. The ring is super classy and clearly one of the most timeless pieces.
Another celebrity to choose the east-west style is the American-Australian businesswoman Portia De Rossi, also more famously recognized as the spouse of the American Comedian Ellen DeGeneres. Ellen chose a 3-carat horizontal marquise ring with a claw set center stone with a pave setting of pink diamonds on the band. The ring is estimated to cost nearly $100,000. The ring exudes elegance. 
The English actress Kate Beckinsale receive a horizontally set emerald cut engagement ring from the American film director Len Wiseman in June 2003.
Recently this design has gained a broad appeal and is featured by many jewelers across the globe at varying price values. Be it in the form of colorless diamonds or fancy gemstones, east-west set engagement rings are definitely unique and uncommon, but it is not a far cry from the traditional sets that those who covet them can also appreciate resurfacing trend. 
Solitaire engagement rings are extraordinary on their own, but they seem to be more breathtaking in a side-to-side setting. The modern age brides appreciate a sleek metal band with a pave setting. This design is not just delicate but also perfect for continuous long-term wear as compared to large carat chunkier rings that may not seem appropriate during working hours. 
If you prefer a more sparkly diamond engagement ring you can always go for a halo setting or a setting with the side stone up.
For contemporary brides who do not prefer an over-the-top precious ring, an engagement ring with a thicker band and signet style does the job wonderfully.
For more unique styles or out of the box engagement ring, brides can always go for a mixed metal variation or another style with different gemstones would only add more uniqueness to the ring style.
The versatility of the east-west style of an engagement ring does not render it exclusive to an aesthetic modern setting. Rather the setting does wonderful justice to raw, natural diamonds and vintage-style rings. It only adds more character to their antique charm. 
Some of the understandable reasons that make the east-west setting so trendy this season are:
The modernity and freshness of the style
People these days are seeking out designs that are more pure, natural yet modern. They want a perfect balance between the past and the present and maybe even a bit of the future. There is no reason why this logic does not apply to diamond rings and engagement rings. People no longer care to copy someone else's design just for the sake of being in trend, rather they prefer something unique, personal, and meaningful. 
The millennials of the 21st century have probably done everything to question and challenge the traditional aesthetics and rules of high-end jewelry. The east-west cut is another similar attempt. For people leading really hectic and busy lives this setting is the perfect option as it classifies as a bit more casual while maintaining the elegance and grace of an engagement ring. Its neat and clean style gives a more chic, modern look to the finger. 
The east-west setting is an all-rounder. Its versatile nature can perhaps satisfy almost everyone's requirements. This setting can glamorously show off the striking geometry of diamonds that have a massive carat weight in a more modern and minimalist setting. However, it can also brilliantly showcase smaller stones in much more delicate settings. The ends of this design are innumerable. You could use various gemstones, fancy colored diamonds, colorless diamonds. Large carat weights or small ones. Even the usage of metal is extraordinary, from the classic platinum to the trendy yellow gold to more unique rose golds and silvers. You could have a combination of everything!
The unisex nature of the east-west setting has made it more popular among new couples. Especially for those who prefer to get matching rings for their engagements or wedding. This style is easily adaptable for men as well. It is perfect for men who prefer diamond jewelry but are not seeking a bespoke, prominent style. Rather they prefer a more understated look. Again, the versatility of the setting allows them to set in any metal of their choice, from white gold bands to platinum and silver. 
It is a perfect classic with a twist
The modern couples who do not wish to fall too far from the tree of traditions yet prefer something unique and modern when selecting an engagement ring can always go for this design. Its very nature serves the purpose they seek. The horizontal setting gives the perfect unique, non-trendy twist to what would otherwise have been a very traditional setting. 
This setting is perfect for a couple who has inherited a decades-old family heirloom or any traditional ring. The east-west setting makes the redesigning of the ring easier. The central natural diamond can be reset in a new fashion without losing its antiquity and charm. The new design can beautifully enhance the family heirloom while personalizing it to your tastes. 
Also read: Know About Natural mined Unearthed Diamond!
Conclusion Thoughts
The North-South East-West ring (NSEW) setting that is more commonly known as the compass settings is the perfect modern style, twisting the vintage settings of engagement rings into more personalized ones. 
Even though the east-west setting of engagement rings is an old design and has always been a great choice for the reasons mentioned above, it has seen a recent resurgence due to the changing preferences of the young millennials and the style perfectly caters to their needs. 
The unisex nature of the ring has added an extra allure to the setting. It maintains the individuality of the person with understated elegance and the brilliance of the diamond. An asymmetrical pear solitaire in an east-west design is a highly recommended understated piece. 
Although the setting makes your stone appear larger than its actual carat weight, no one in today's times is seeking out valuable pieces to be locked and stored away in vaults and storages, rather more unique styles that can be worn every single day to work and casual settings as well. Moreover, since the prominent ends of the stone are not facing outwards, the ring is less likely to suffer from any scratching hazards.
One of its best traits is that down the line if you feel like having a change in your engagement ring, you can always go for a redesign, it will not take more than a few simple tweaks.  The NSEW prongs are the perfect modern twist to traditional engagement rings.