Breaking the Stereotypical Norms with Gender-Neutral Rings
When it comes to rings, be it an engagement ring or wedding band, the market used to be heavily dominated by designs that were made with a specific gender in mind. Rings for women feature gorgeous diamonds in beautiful patterns while rings for men's rings feature plain and modest bands of plain metal with an occasional small diamond(s).
But times are changing. In the last few years, the strict lines that separated these gender norms have been blurring. Men's and women's fashion has taken a new turn. Society has comparatively become a little more accepting of women who are comfortable in men's wear and men who like how they look in feminine clothes.
This change has not just been limited to clothes, but has extended towards other accessories as well; especially jewelry.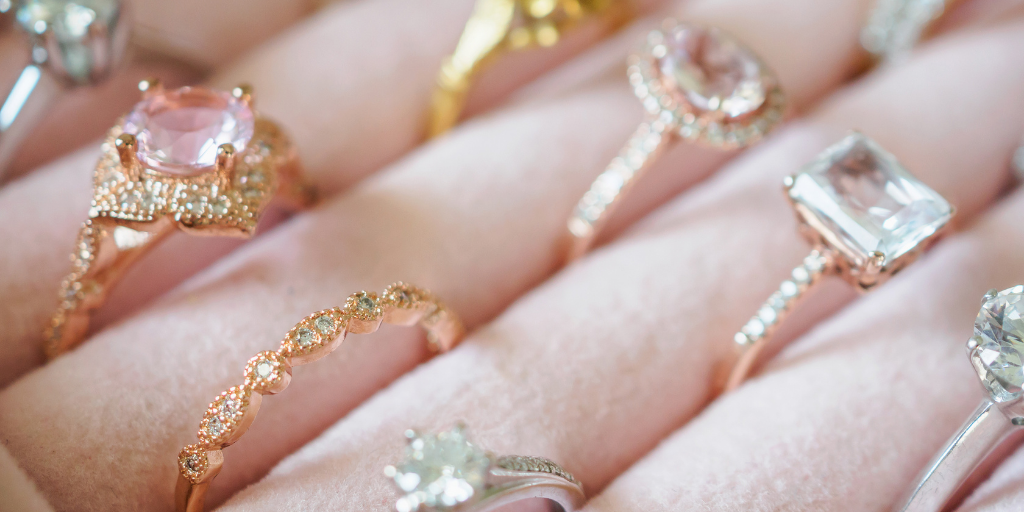 Now that a lot of non-traditional cultures are getting more accepted, people are trying new styles to be as expressive as they can. This makes a lot more sense when it comes to engagement rings and wedding band designs.
Gender-neutral rings have a unique and unparalleled charm. Since they are manufactured with no gender-specific mindset, they are perfect for him, her, or them.
These gender-neutral rings are contemporary and sophisticated and are an unconventional choice. These designs and styles take a whole different route and present a great number of combinations and styles as they are paving their way while breaking the gender stereotype.
These rings can be worn by a person belonging to any gender, so it does reduce one stress point. But there are so many to choose from, that it still makes finding the perfect ring a daunting task.
Designs that flatter gender-neutral rings
Gender-neutral rings are technically new. Hence jewelers are having their fun, experimenting with designs and seeing how far they can push their boundaries. These rings are extremely minimalistic and don't feature a lot of bling.
These rings can feature a simple plain ring, or they can have diamonds. Not a fan of bling? Then some rings have engraved patterns. If you are looking for a unique, one-of-a-kind ring, then a ring with rivets or facets might be the one that would appeal to you.
Diamonds are the most popular choice to be featured on gender-neutral rings. While diamonds have been classified as feminine in the past, in recent times many men have proudly sported diamonds on various platforms and not only did they make them work, but they rocked the diamonds. Hence no longer are diamonds just feminine.
Apart from diamonds, another popular design choice is engraving. Plain engraved rings add a unique depth and dimension to the ring and give it a whole new outlook. Another thing that makes engravings a favorable choice is the designs. Tons of patterns and designs can be uniformly engraved on these rings and each engraving will make the ring a rare and unique ring.
The engravings designs can include chevrons, crisscrosses, floral patterns, starbursts, geometric patterns, wheat patterns, and much more. You can even have two or more engraving patterns combined to make the ring even more unique. You can also opt for personal engravings that might hold some special meaning to you and you only.
If you like to keep it simple with engravings, then the milgrain pattern is also quite remarkable. This pattern features a small metal ball-like pattern. They are small, versatile, and look great independently, with other engravings and diamonds as well.
To enhance the engraved rings even further, you can have tiny diamonds accompanying the engravings. These diamonds could be placed at fixed distances and might just add that required dazzle to make it more beautiful.
If you are wanting to remain neutral and minimalistic with the designs, facet designs are also gaining popularity. These facets can be like honeycombs or snakeskin-like patterns. They are minimalistic and quite modern and perfect for anyone who wishes for one.
To add a little something special, black enamel can also opt as an extra for the ring. The matte black material with the shiny gold finish with the dazzle of diamond might just make the most perfect ring for your loved one. To appear even more in tune with the one you love, a couple of rings are a great choice as well.
No matter what design you choose, these gender-neutral rings have gorgeous, bold, and attention-grabbing air. They also double as statement rings, on top of a wedding band or engagement ring. These rings are simple, timeless, quirky, modern, vintage, minimalistic, and off the beaten track.
These rings are best being custom-made. Some of them might hold sentimental values and these values cannot be found in off-the-rack rings. Whether you like the plain and unpretentious design or want to mix and match things up with rivets and black enamel, it is best to have an idea of what you want in mind before you go out to buy a diamond or have them made on a custom order.
Most suitable metal for gender-neutral rings
Honestly, there isn't a 'most suitable metal' when it comes to rings. In fact, that is a highly subjective topic. Gold and platinum are the most used metals concerning rings.
Platinum, while a little is more expensive than gold, offers a beautiful ice white, neat, and elegant vibe to the ring. It is also a very durable metal, some might argue that it is the most durable metal to make pieces of jewelry of, and the odds of it getting scratches and dents are very low. This makes it a great metal to have engagement rings and wedding bands as these are to be worn every day.
If you are looking for a platinum-like appearance but do not want to pay that much, white gold is just as popular and good-looking. It is not as durable as platinum, but it is quite hard and is also quite suitable for everyday jewelry.
Yellow gold offers a classic and timeless piece. It also complements the minimalist and classic vibe of gender-neutral rings and looks stunning with engravings, diamonds, and even black enamel.
Rose gold has fresh and modern air to it. This metal also has a romantic and vintage vibe, which just complements the vintage charm of gender-neutral rings and marks it as a perfect token of romance from you to your loved one. Rose gold is also significantly cheaper than the other two golds as it has copper in it. Copper gives rose gold it's color and makes it durable while also lowering the price tag.
Other than these, sterling silver and palladium are also slowly becoming favorable choices for gender-neutral rings.
If you are looking to spice things up with your ring, try two-toning. Two-toning is having two metals in one ring. This gives the ring an attractive contrast and makes it more eye-catching. 
Two-toning can be done of yellow gold and white gold, white gold and rose gold, platinum and rose gold, and platinum and yellow gold.
Tons of designs highlight the two-toned style of rings. Rope design, double bands, double helix are some of the known design styles. Furthermore, you can opt for a design where a single stripe of metal is present in a ring of another metal. For instance, a white gold ring with a stripe of rose gold in the middle.
These metals can have a glossy or matte finish, based on what you prefer. The matte finish gives an antique and vintage vibe while the glossy finish looks fun and modern.
How to have diamonds set in gender-neutral rings?
Apart from simple plain gender-neutral ring designs, diamonds are the most popular choice to have on these rings. The diamonds give the ring a tiny bit of sparkle and dazzle without making it appear feminine.
Princess cut ring, despite the name, is a popular choice along with cushion cut ring and Round cut ring. The round cut ring is the most popular diamond design when it comes to gender-neutral rings. These diamond rings look great and maintain the gender-natural vibe without getting too overboard or crossing the lines.
The emerald cut ring is another popular style. The emerald cut is more about elegance and minimalism rather than brilliance, which suits the gender-neutral charm of the ring.
Gender-neutral rings feature diamonds in a different way than other traditional designs of rings. 
These rings prefer a bezel or gypsy setting.
The bezel setting has a metallic layer surrounding the diamond on its periphery. This makes the diamond subtle as the amount of light that is supposed to enter the diamond to make it sparkle is restricted. This subtle glam complements the minimalism of gender-neutral rings and remains a preferred choice.
Another popular diamond setting is the gypsy setting. This setting is also known as flush mount setting, burnish setting, or shot setting. It is mostly featured in men's rings but now it is making its way for gender-neutral rings as well. In this setting, the band gets slightly thicker around the diamond. At its thickest point, the diamond is inserted and the metal just holds it down. There are no metal strips or prongs.
Infinity band setting is another modernistic setting for gender-neutral rings. This setting features diamonds all over the band. They can be placed adjacent next to one another or at measured gaps. 
Infinity band setting has a beautiful contemporary modern and uniform look that looks great with anyone who wears them. Round cut rings, princess cut rings, and baguette-cut rings are the popular choices for an infinity ring setting.
3 stone wedding ring with a center stone with two similar stones on either side of the center stones also remain a remarkable choice for the minimalistic style of the ring
What makes gender-neutral rings a popular choice?
Gender-neutral rings are gorgeous. Not only are they highly versatile, but they also are made suitable for the gender fluidity of the modern world. This promotes equality among the sexes. 
It might not look like gender rings make a huge difference when it comes to gender equality, but everything starts with a small step. 
These rings encourage people to be more accepting of themselves and people around them and be more inclusive and considerate, as they do not adhere to the traditional gender norms set by society.
These rings can be a form of expression for people who wish to express themselves in ways outside the stereotypes of society. It could be a man who likes diamonds on his wedding band or a woman who favors a faceted engagement ring. Either way, these rings offer freedom of expression that many people like.
They are trendy! Gender-neutral rings are gradually becoming popular and fashionable thanks to their androgynous flair. They are versatile and look great on any and every person without having to try too hard.
Conclusion Thoughts
Gender-neutral rings are a new and modern approach towards rings that do not adhere to the stereotypical gender norms of society. Their non-binary outlook makes them a favorable choice amongst many modern people who wish for a trendy and unique ring.
These rings feature a plethora of designs from engravings and milgrain patterns to diamonds and black enamel. These gender-neutral rings are bold and beautiful and tend to make a statement wherever you go with them. They are minimalistic, simple, unique and one of a kind.
The only thing traditional about these rings is the metals that are used to make them. Gold and platinum remain popular choices for these rings, even though sterling silver and palladium are also getting popular slowly. The metals can feature glossy or matte finish or they can be two-toned to create contrast and gorgeousness.
Diamonds on these rings also remain a popular choice. Princess cut rings, round cut rings, emerald cut rings, cushion cut rings are some of the favorable rings. Gender-neutral rings do not feature prongs or tension settings but rather like to have bezel or gypsy settings.
These rings promote equality among sexes, are a form of expression, and are trendy and fashionable. If you are someone who likes to break traditions, then these gender natural rings are the ones for you.