Black engagement diamond rings: which one should you get?
For a long time now, white and colourless diamonds have dominated the engagement rings market. Women all over the world have been proposed with a diamond ring, and a colourless diamond is the go-to option, where pretty much nothing can go wrong. It is classic, it is beautiful, and it shows commitment – what more could you ask for?
But of late, more and more people want to stand out from the crowd. Couples are now looking to express their boldness, their stand-out style, and their unique relationship with the help of their ring. And for some people, that means going for something that is the opposite of traditional – Black engagement diamond rings.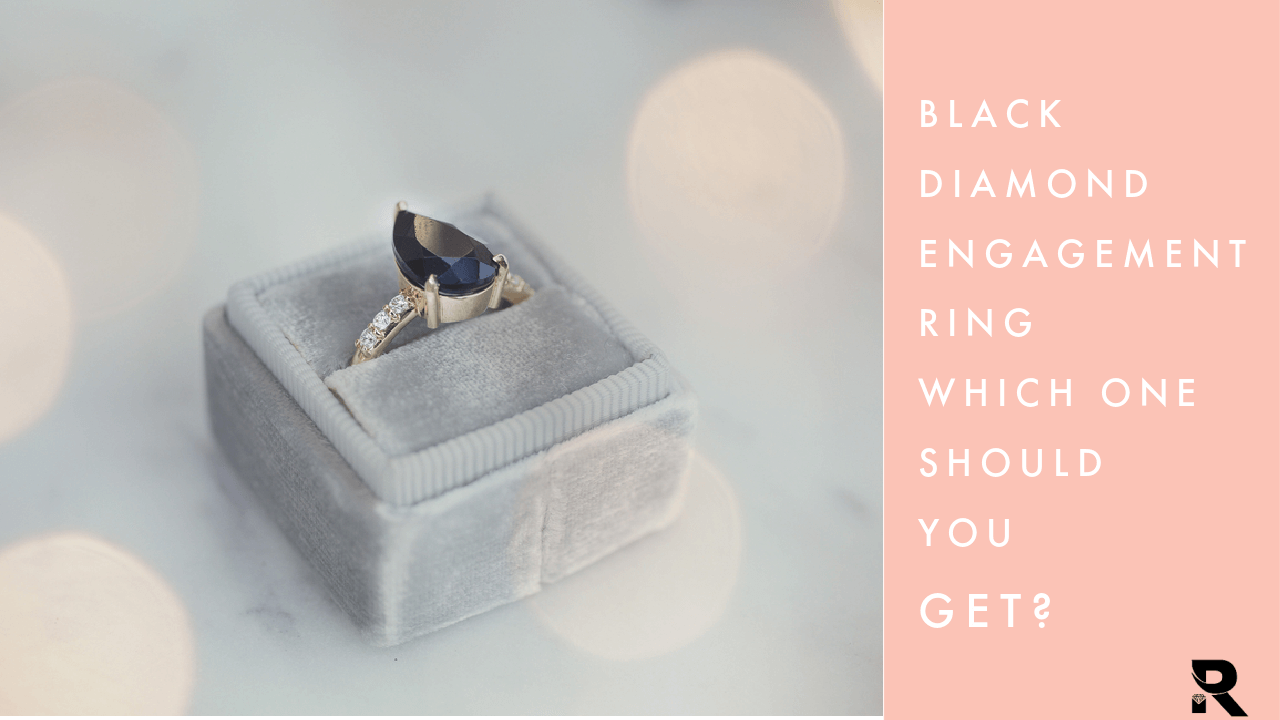 Black Diamonds have their own charisma and charm. They are not easily forgettable, they are not demure, and they certainly make a statement. It is certainly not a feminine colour, yet more and more women are being attracted by it. Perhaps this is because of the qualities black stones represent – independence, confidence, fearlessness, and a refusal to conform.
If you and your partner have been thinking of getting a black diamond ring, you have landed at the right place. There are several options that you can go for in terms of deciding the centrepiece. And with the amount of choice available in the market right now, it is easy to get lost and overwhelmed. From black diamonds to cubic zirconia, the range of engagement rings with a black stone is truly endless.
Read on to find out what works best for you.
1. Black diamond engagement rings
For a long time, black diamonds were considered to be the black sheep of the diamond family. In India and several other parts of the world, they were considered inauspicious, and people would positively detest getting a black diamond for something as special as an engagement ring. Not only that, black diamonds were also considered inferior in terms of material and quality.
However, times are changing now. Due to awareness campaigns by jewellery designers and marketing tactics, black diamonds are now the hottest new trend in the market. More people are now embracing this lustrous and intriguing stone. What adds to the mystery and enigma of a black diamond is the fact that there is no consensus regarding its origins. There are several theories in the scientific world, some of them even stating that the black diamond comes from asteroids and supernova.
Whatever the origins may be, one thing is clear – the black diamond gets its colour from high concentration of graphite and other minerals. Some black diamonds even have sulphide inclusions in them. One thing to be noted is that when inclusions in a black diamond, the colour is also more evenly saturated. This makes the diamond more desirable.
Moreover, because all black diamonds have inclusions and they are opaque, you will not find a clarity grade for them. With impurities being an integral part of the structure of the black diamond, clarity is not a feature of these stones.
Even though these stones are completely opaque and do not let any light pass through them, they do sparkle and shine. In fact, a well-crafted black diamond will have a deep lustre like that of marble. When these diamonds are faceted with expertise, they will have a shine that can rival that of a white diamond.
And that's not all. Black diamonds are also the hardest of all diamonds. As a result, they are perfect for everyday wear. But it should be noted that like all diamonds, black diamonds also need some care, like not using harsh chemicals for cleaning them.
To get a unique engagement ring, you can use a black diamond as the centerpiece with white or colourless diamonds as accent stones. If you want to go the vintage way, you can use the black diamond with yellow or rose gold metals. For a more modern looking ring, choose white gold or platinum.
Also Read: Most Common questions asked about Black diamonds
2. Black onyx engagement ring
Onyx is a type of chalcedony stone, but not all chalcedony stones are onyx. Specifically, onyx mostly exists in solid black, white, and banded black chalcedony stones. The most well-known type of onyx is the solid black one, and this gemstone has been used as a part of jewellery since ancient times. In fact, black onyx has been a traditional choice of stone for a long time now. Earlier, an onyx was considered quite a valuable gemstone, but now it is known as a minor stone.
Black onyx needs to be treated to give it its characteristic jet-black colour. It should be noted, however, that this is an established industry practice, and it does not deteriorate the quality of the stone.
Black onyx quite a lot like the black diamond, but it does not have either the lustre or the hardness of a black diamond. In fact, the shine of onyx is waterier. Onyx gemstones are also eye-clean and are highly clear. They have a hardness rating of 7. Although it is not as soft as, say, a pearl, it is still a soft stone for an engagement ring.
All in all, an onyx engagement ring will not be very durable. You will need to care for the stone a lot if you want to wear the ring daily. Over the years, you may have to replace the stone too, however, since onyx stones are not that expensive, it will be an uncostly affair.
As for the metals that should be used with onyx, the best combination is a rich black onyx with yellow gold. The contrast of the two pieces creates a bold and strong statement and will catch the eye of everyone who glances at it.
3. Black pearl engagement rings
Often, people associate pearls with an iridescent white glow. So, the term black pearl is a bit paradoxical. However, it should be noted that while black pearls are quite rare, they are not completely unheard of. These extremely rare stones are formed under very specific conditions.
Pearls, unlike other types of stones and gems, are not made of minerals. They are organically formed by living organisms inside an oyster. They are produced by farming and harvesting oysters. And as for black pearls, they are formed by very specific oysters, and not every oyster can make these intriguing gemstones.
Because of this exclusivity surrounding them, black pearls are extremely expensive. You can find black pearls in all kinds of hues – from grey coloured ones to solid black pearls. The latter has an ethereal, other-worldly glow that has to be seen to be believed. This iridescence of black pearls will make them stand out and instantly noticeable.
You can choose from a wide variety of black pearls, as they are available in several different types. Some of the most popular ones include – Black Akoya, lack Freshwater, and Tahitian. However, it should be noted that black pearls are extremely soft gemstones. On the Mohs scale, they have a grade of just 2.5.
Due to their softness and delicacy, black pearls can be very scratched, and they are very prone to be abraded. Due to this, they should be treated with extreme care and need to be maintained quite well. Black pearls would, thus, not be the best choice for someone who wants to wear their engagement ring on a daily basis.
Although with a lot of care, your black pearl will last a long time, the reality is that sooner or later, you will have to replace it. If you are not too attached to your black pearl, this should be done easily. As soon as the gem gets abraded or wears out, you can replace it, while keeping the design of the ring intact.
One of the biggest appeals of a pearl is how soft and delicate it is, and a black pearl with its ethereal glow is worth going through the trouble of maintaining it.
4. Black opal engagement rings
Of all the types of opals, the black opal is the most popular and valuable. The biggest difference between the rest of the gemstones in this list and black opal is that it is not solid black. A pure black opal will have no value. Instead, a beautiful opal with a dark tone of the body is extremely precious and unparalleled. Talking of the body tone, it can vary from black to grey.
The dark body also highlights the various colours inside the gemstone. It emphasizes them, creates a beautiful contrast, and in the right light, can really flash the colours quite intensely. This one-of-a-kind feature is what makes opals so desirable and loved.
When it comes to hardness, opals are quite soft. They rank 5.5 on the Mohs scale, and like pearls, they require a lot of care to maintain their integrity and lustre. An opal should never be exposed to harsh chemicals, rough particles, or steam. That is why, for someone who wants to wear their engagement ring every single day, it may need some extra care to wear a ring with opal.
However, the beauty of an opal engagement ring cannot be denied. This unique gemstone is extremely dazzling and adds a brilliant touch of colour to your day. It should also be noted that no two opals have the same structure or look, so your ring will really be one of a kind.
Black opal engagement rings should be crafted with white metals and some accent diamonds, as this will bring out the contrast and beauty of the opal.
Also Read: How to determine the value of a Black diamond?
5. Black cubic zirconia engagement rings
Cubic zirconia is the one diamond stimulant that almost everyone knows about. Not only that, It is also one of the most affordable gemstones in this list. Some people may think that cubic zirconia is not valuable enough for being the centrepiece of an engagement ring, but it is definitely a practical choice of gemstone.
This is because not only are cubic zirconia stones very similar looking to diamonds, they also perform incredibly in day to day life. A cubic zircon may have a hardness of 8 to 8.5 on the Mohs scale, making it extremely durable. Thus, this stone is perfect for daily wear, as it will not get damaged or abraded easily.
That's not all, cubic zirconias are also cheap and easy to replace. So even if the stone does get damaged, you can replace it without burning a hole in your pocket. If you are worried about the looks of cubic zirconia, rest assured, the stones are so similar to diamonds that sometimes even gemologists can be fooled by the appearance of cubic zirconia. So much so, that sometimes celebrities opt to wear cubic zirconia in public, leaving behind their real diamonds in the safe.
Black cubic zirconia will simulate a diamond of the same colour to a near-exact degree. It will also perform in a similar way. One piece of advice when getting a cubic zirconia engagement ring would be to spend a little more money on the setting of the ring. This will make your ring more valuable, and even if you have to replace the centre stone, later on, the setting of the ring will remain the same for ages.
6. Black moissanite engagement ring
Moissanite is a very popular diamond simulant. If you want a diamond without having to worry about the hole it will create in your bank account, choose moissanite. This diamond stimulant also does not come with the ethical concerns of buying a mined diamond. And lastly, compared to a diamond, moissanite is quite inexpensive, even if it is not as cheap as cubic zirconia.
They are extremely rare stones, and many people believe that natural moissanite came to the surface of the earth from outer space via an asteroid. The supply of naturally formed moissanite is quite low, that is why almost all the moissanite stones used in jewellery are created in the lab.
The hardness rating of a moissanite is quite high, that is, it is 9.25, making it the second most durable stone in the industry after diamonds. Black moissanite also looks quite similar to black diamonds, and it has the same rainbow effect as seen in black diamonds when they are placed under sunlight.
Here is a comparison table for black moissanite and black diamonds:
 7. Black gold diamond engagement rings
Black gold used to mean oil for a long time, but now there is such a thing as black gold in the jewellery industry. The unique and trendy metal is slowly gaining popularity as an edgy choice for engagement rings. Black gold cannot be found naturally. Rather it is made via plating of black metals on other metals. The ring is actually made of yellow or white gold, and then it is dipped in black rhodium to give it a shiny and polished appearance.
Black gold can be used with any kind of gemstone to create a truly trendy and edgy engagement ring. If you are a huge fan of black and want a solid black look through and through, you can use a black diamond as the centrepiece. But if you really want to highlight the beauty of black gold, you should go for a white or colourless diamond that will create a fantastic contrast against black gold. You can also choose a coloured gemstone, like a sapphire, amethyst, or ruby for a more vibrant look.
Black gold engagement rings are unique and eye-catching, and you cannot go wrong with them, no matter what kind of centrepiece you choose.
Also Read: 10 Facts You Didn't Know About the Black Diamonds
Closing thoughts
It is clear that there are many choices for someone who wants a touch of black in their engagement ring. The trend can be embraced any way you like, whether it is by choosing a black centrepiece, or the black metal that surrounds the main stone. This non-traditional style of engagement rings is truly stunning, edgy, and glamorous.
Gone are the days when people used to go for clear diamonds for engagement rings right away. It is 2020, and more and more people are embracing the unique look of a black engagement ring. And why not, there are so many options available too. However, before you pick the diamond for your ring, we recommend doing thorough research.
After all, just like your marriage, an engagement ring is for eternity.